Lincoln Nautilus: Doors and Locks / Operating the Doors From Inside Your Vehicle
Individually Unlocking and Locking the Doors Using the Locking Button
The power door lock control is on the driver and front passenger door panels.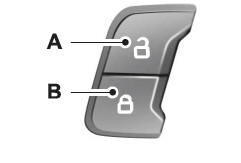 Unlock.
Lock.
Unlocking and Locking the Doors Using the Remote Control You can only use the remote control when your vehicle is stationary. Unlocking the Doors Press the button to unlock all doors...
Autounlock What Is Autounlock Autounlock is an unlocking feature that unlocks the vehicle doors when your vehicle comes to a stop. Autounlock Requirements Autounlock unlocks all the doors when all of the following occur: The ignition is on, all the doors are closed and your vehicle is moving at a speed greater than 12 mph (20 km/h)...
Other information:
Special Tool(s) / General Equipment 205-126 (T78P-4851-A) Holding Fixture, Drive Pinion Flange 205-495Installer, Transmission Output Shaft Flange Transmission Jack Flat-Bladed Screwdriver Two Leg Puller Wooden Block Materials Name Specification Motorcraft® Premium Long-Life GreaseXG-1-E1 ESA-M1C75-B Removal All vehicles Rem..
Use oil that meets the defined specification and viscosity grade. If you do not use oil that meets the defined specification and viscosity grade, it could result in: Component damage that your vehicle warranty does not cover. Longer engine cranking periods. Increased emission levels. Reduced vehicle performance. Reduced fuel economy. An oil that displays this symbol conforms to curre..
Categories
What Is Auto-Start-Stop
The system is designed to help reduce fuel consumption and CO2 emissions by stopping the engine when it is idling, for example at traffic lights.
Auto-Start-Stop Precautions
WARNING: Apply the parking brake, shift into park (P), switch the ignition off and remove the key before you leave your vehicle. Failure to follow this instruction could result in personal injury or death.
WARNING: Apply the parking brake, shift into park (P), switch the ignition off and remove the key before you open the hood or have any service or repair work completed. If you do not switch the ignition off, the engine could restart at any time. Failure to follow this instruction could result in personal injury or d