Lincoln Nautilus: Automatic Transmission / Shifting Your Vehicle Into Gear
The gear selector is located near the middle of the instrument panel. Press a button to select a gear.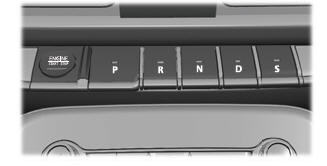 Park (P)
Reverse (R)
Neutral (N)
Drive (D)
Sport (S) (If equipped)
Note: The gear selector prevents shifting out of park (P) when the intelligent access key is outside the vehicle.
Note: The gear selector will automatically return to park (P) when you take actions associated with leaving the vehicle. See How Does Automatic Return to Park (P) Work.
Park (P) WARNING: Move the transmission selector lever to park (P) only when your vehicle is stationary. This position locks the driveline. Come to a complete stop before putting your vehicle into and out of park (P)...
The instrument cluster displays the current position. Note: The position could illuminate on the transmission selector...
Other information:
WARNING: Extended idling at high engine speeds can produce very high temperatures in the engine and exhaust system, creating the risk of fire or other damage. WARNING: Do not park, idle or drive your vehicle on dry grass or other dry ground cover. The emission system heats up the engine compartment and exhaust system, creating the risk of fire. WARNING: Do not start the engine in a closed..
WARNING: If the tire pressure monitor sensor becomes damaged it may not function. WARNING: Under-inflation is the most common cause of tire failures and may result in severe tire cracking, tread separation or blowout, with unexpected loss of vehicle control and increased risk of injury. Under-inflation increases sidewall flexing and rolling resistance, resulting in heat buildup and intern..
Categories
What Is Auto-Start-Stop
The system is designed to help reduce fuel consumption and CO2 emissions by stopping the engine when it is idling, for example at traffic lights.
Auto-Start-Stop Precautions
WARNING: Apply the parking brake, shift into park (P), switch the ignition off and remove the key before you leave your vehicle. Failure to follow this instruction could result in personal injury or death.
WARNING: Apply the parking brake, shift into park (P), switch the ignition off and remove the key before you open the hood or have any service or repair work completed. If you do not switch the ignition off, the engine could restart at any time. Failure to follow this instruction could result in personal injury or d