Lincoln Nautilus: Front Seats / Ventilated Seats
Switching the Ventilated Seats On and Off
The vehicle must be running to use this feature.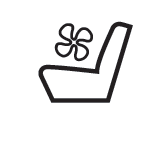 Press this symbol to cycle through the various ventilation settings and off. More indicator lights indicate higher fan speeds.
If the engine falls below 350 RPM while the ventilated seats are on, the feature turns itself off. You need to reactivate it.
Note: The ventilated seats may remain on after you remote start your vehicle, based on your remote start settings. The ventilated seats may also turn on when you start your vehicle if they were on when you switched your vehicle off.
Automatic Climate Controlled Seats (If Equipped)
When you switch the auto setting on, the climate controlled seats switch between the heated seats and ventilated seats to match your climate control setting.
Heated Seat Precautions WARNING: Use caution when using the heated seat if you are unable to feel pain to your skin because of advanced age, chronic illness, diabetes, spinal cord injury, medication, alcohol use, exhaustion or other physical conditions...
Other information:
DTC Chart: Anti-Lock Brake System (ABS) Module Diagnostics in this manual assume a certain skill level and knowledge of Ford-specific diagnostic practices. REFER to: Diagnostic Methods (100-00 General Information, Description and Operation). NOTE: If present, diagnose DTC C2007:13 Right Motor: Circuit Open or C2008:13 Left Motor: Circuit Open before diagnosing all other Diagnostic Tr..
Materials Name Specification XY-75W-QL - Motorcraft® Disconnect Rear Drive Unit Fluid - Premium Long-Life Grease XG-1-E1 ESA-M1C75-B Capacities Item Liters Material: Motorcraft® Disconnect Rear Drive Unit Fluid / XY-75W-QL 0.860L (1.8 pts) (..
Categories
What Is Auto-Start-Stop
The system is designed to help reduce fuel consumption and CO2 emissions by stopping the engine when it is idling, for example at traffic lights.
Auto-Start-Stop Precautions
WARNING: Apply the parking brake, shift into park (P), switch the ignition off and remove the key before you leave your vehicle. Failure to follow this instruction could result in personal injury or death.
WARNING: Apply the parking brake, shift into park (P), switch the ignition off and remove the key before you open the hood or have any service or repair work completed. If you do not switch the ignition off, the engine could restart at any time. Failure to follow this instruction could result in personal injury or d