Lincoln Nautilus: Wheels and Tires / Wheel to Hub Runout Minimization. General Procedures
Check
NOTE: Wheel-to-hub optimization is important. Clearance between the wheel and hub can be used to offset or neutralize the Road Force® or run-out of the wheel and tire assembly. For every 0.001 inch of wheel-to-hub clearance, the Road Force® can be affected between 1 and 3 pounds depending on the tire stiffness.
NOTE: The example below illustrates how the clearance between the wheel and the hub can be used to offset the high spot of radial run-out or Road Force®. Following the procedure will make sure of the best optimization.

Position the wheel and tire assembly on the vehicle so that the high spot location of radial run-out or Road Force® is at the 6 o'clock position and install the wheel nuts by hand until snug.

NOTE: Do not allow the full weight of the vehicle to rest on the tires while tightening the wheel nuts.

Lower the vehicle until the tires make contact with the ground, slightly loading the suspension. Tighten the wheel nuts.
Refer to: Wheel and Tire (204-04A Wheels and Tires, Removal and Installation).

Preliminary Inspection Verify the customer concern by carrying out a road test on a smooth road. If any vibrations are apparent, Refer to the Symptom Chart: NVH...
Check NOTE: Road Force® values in illustrations are shown in pounds. NOTE: Match mounting is a technique used to reduce radial runout or road force on wheel and tire assemblies...
Other information:
What is Sensitive Locking Mode Sensitive locking mode is a seatbelt retractor feature that allows shoulder belt length adjustment according to your movements and locking in response to vehicle movement. How Does Sensitive Locking Mode Work If the driver suddenly brakes, turns a corner sharply, or the vehicle receives an impact of about 5 mph (8 km/h) or more, the seatbelts lock to help redu..
Locating the Vehicle Identification Number The vehicle identification number is located on the left-hand side of the instrument panel. In the graphic, XXXX is representative of your vehicle identification number. Vehicle Identification Number Overview The vehicle identification number contains the following information: World manufacturer identifier. Brake system, gross vehicle weight ra..
Categories
Parking Aid Indicators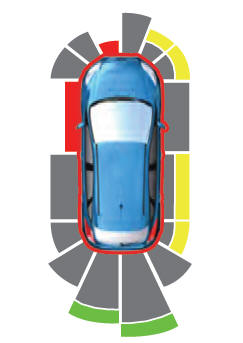 The system provides object distance indication through the information and entertainment display.
As the distance to the object decreases, the indicator waves and the lines move toward the vehicle icon. If there is no object detected, the distance indicator lines are grey.
Copyright © 2023 www.linautilus.com