Lincoln Nautilus: General Information / Brake and Clutch Systems Health and Safety Precautions. Description and Operation

WARNING: Do not use any fluid other than clean brake fluid meeting manufacturer's specification. Additionally, do not use brake fluid that has been previously drained. Following these instructions will help prevent system contamination, brake component damage and the risk of serious personal injury.

WARNING: Do not breathe dust or use compressed air to blow dust from storage containers or friction components. Remove dust using government-approved techniques. Friction component dust may be a cancer and lung disease hazard. Exposure to potentially hazardous components may occur if dusts are created during repair of friction components, such as brake pads and clutch discs. Exposure may also cause irritation to skin, eyes and respiratory tract, and may cause allergic reactions and/or may lead to other chronic health effects. If irritation persists, seek medical attention or advice. Failure to follow these instructions may result in serious personal injury.
NOTICE: If the brake fluid is spilled on the paintwork, the affected area must be immediately washed down with cold water.
WARNING: Always refer to Material Safety Data Sheet (MSDS) when handling chemicals and wear protective equipment as directed. Examples may include but are not limited to respirators and chemically resistant gloves...
WARNING: Air conditioning liquid refrigerant R-134a and R-1234yf are capable of harming eyes or freezing skin. Always wear safety goggles and avoid contact with liquid refrigerant...
Other information:
Inspection WARNING: If a vehicle has been in a crash, inspect the Restraints Control Module (RCM) and impact sensor mounting areas for any damage or deformation. Also inspect the related components for any cracks, damage, or loose fasteners...
Adjustment NOTE: Rear Fixed Glass Panel NOTE: If the rear fixed glass is in need of adjustment, align the rear fixed glass panel and then align the front sliding glass panel. The roof opening panel initialization procedure must be done when repairs are carried out on the roof opening panel system, including: any time either roof opening panel motor, air deflector, roof opening panel g..
Categories
Parking Aid Indicators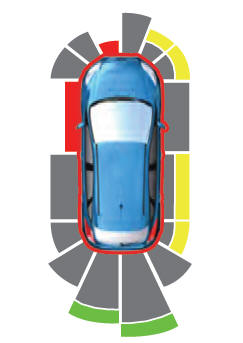 The system provides object distance indication through the information and entertainment display.
As the distance to the object decreases, the indicator waves and the lines move toward the vehicle icon. If there is no object detected, the distance indicator lines are grey.