Lincoln Nautilus: Parking Aids / Parking Aid Indicators. Parking Aids – Troubleshooting
Parking Aid Indicators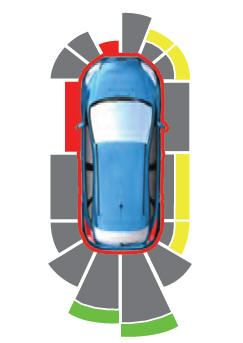 The system provides object distance indication through the information and entertainment display.
As the distance to the object decreases, the indicator waves and the lines move toward the vehicle icon.
If there is no object detected, the distance indicator lines are grey.
Visual indication remains on when your vehicle is in reverse (R). In any other gear, when you stop your vehicle, visual indication turns off after four seconds.
If the parking aids are not available, the side distance indicator lines do not display.
Parking Aids – Troubleshooting
Parking Aids – Information Messages
If a fault is present in the parking aids, a warning message appears in the instrument cluster or the information and entertainment display.

What is the Side Parking Aid The front and rear outermost parking aid sensors map objects that are near to the sides of your vehicle. Side Parking Aid Limitations The sensor coverage is up to 24 in (60 cm) from the sides of your vehicle...
What Is the Rear View Camera The rear view camera provides a video image of the area behind your vehicle when the transmission is in reverse (R). Rear View Camera Precautions WARNING: The rear view camera system is a reverse aid supplement device that still requires the driver to use it in conjunction with the interior and exterior mirrors for maximum coverage...
Other information:
What Are the Child Restraint Anchor Points Anchor points allow you to quickly and safely install a child restraint. Locating the Child Restraint Lower Anchor Points Locating the Child Restraint Top Tether Anchor Points ..
WARNING: Batteries normally produce explosive gases which can cause personal injury. Therefore, do not allow flames, sparks or lighted substances to come near the battery. When working near the battery, always shield your face and protect your eyes. Always provide correct ventilation. WARNING: When lifting a plastic-cased battery, excessive pressure on the end walls could cause acid to fl..
Categories
Locating the USB Ports
Data Transfer USB Ports

The USB Ports could be in the following locations:
On the lower instrument panel. Inside the media bin. Inside the center console.
Note: These USB ports can also charge devices.