Lincoln Nautilus: Parking Aids / Parking Aid Indicators. Parking Aids – Troubleshooting
Parking Aid Indicators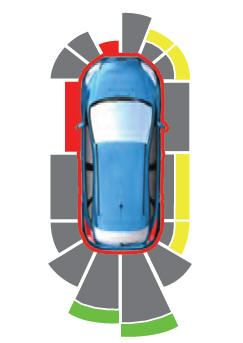 The system provides object distance indication through the information and entertainment display.
As the distance to the object decreases, the indicator waves and the lines move toward the vehicle icon.
If there is no object detected, the distance indicator lines are grey.
Visual indication remains on when your vehicle is in reverse (R). In any other gear, when you stop your vehicle, visual indication turns off after four seconds.
If the parking aids are not available, the side distance indicator lines do not display.
Parking Aids – Troubleshooting
Parking Aids – Information Messages
If a fault is present in the parking aids, a warning message appears in the instrument cluster or the information and entertainment display.

Categories
Locating the USB Ports
Data Transfer USB Ports

The USB Ports could be in the following locations:
On the lower instrument panel. Inside the media bin. Inside the center console.
Note: These USB ports can also charge devices.