Lincoln Nautilus: Tire Care / Inspecting the Wheel Valve Stems. Tire Rotation
Inspecting the Wheel Valve Stems
Check the valve stems for holes, cracks, or cuts that could permit air leakage.
Tire Rotation
WARNING: If the tire label shows different tire pressures for the front and rear tires and the vehicle has a tire pressure monitoring system, then you need to update the settings for the system sensors. Always perform the system reset procedure after tire rotation. If you do not reset the system, it may not provide a low tire pressure warning when necessary.
Rotating your tires at the recommended interval will help your tires wear more evenly, providing better tire performance and longer tire life.
Note: If your tires show any uneven wear have the alignment checked by an authorized dealer before rotating tires.
Note: If you have a dissimilar spare wheel and tire assembly, it is intended for temporary use only and should not be used in a tire rotation.
Note: After having your tires rotated, inflation pressure must be checked and adjusted to the vehicle requirements.
Tire Rotation Diagram
Follow the diagram indicating the correct tire locations for rotating the tires.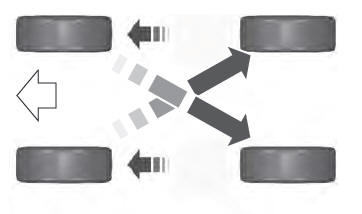 Inspecting the Tire for Wear When the tread is worn down to one sixteenth of an inch (2 mm), tires must be replaced to help prevent your vehicle from skidding and hydroplaning...
Other information:
Overview BLIS ® The BLIS ® aids the driver in assessing whether another vehicle is present within a specific area (blind spot) to either side of the vehicle, extending rearward approximately 6 m (20 ft) beyond the rear bumper while driving on roads and highways. The system is not designed to prevent contact with other vehicles or objects. The BLIS ® uses the exterior mirror BLIS ®/..
Oil Pressure Test 2.7L EcoBoost & 3.3L Duratec & 5.0L Ti-VCT NOTE: It is necessary to disconnect the battery to avoid setting any DTCs that could cause the PCM to command the oil pressure to other than what should be observed from a correctly operating system during the oil pressure test. Disconnect the battery ground cable. For additional information, refer to: Battery Disc..
Categories
What Is Auto-Start-Stop
The system is designed to help reduce fuel consumption and CO2 emissions by stopping the engine when it is idling, for example at traffic lights.
Auto-Start-Stop Precautions
WARNING: Apply the parking brake, shift into park (P), switch the ignition off and remove the key before you leave your vehicle. Failure to follow this instruction could result in personal injury or death.
WARNING: Apply the parking brake, shift into park (P), switch the ignition off and remove the key before you open the hood or have any service or repair work completed. If you do not switch the ignition off, the engine could restart at any time. Failure to follow this instruction could result in personal injury or d