Lincoln Nautilus: Tire Care / Inspecting the Tire for Wear. Inspecting the Tire for Damage
Inspecting the Tire for Wear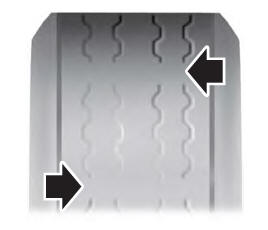 When the tread is worn down to one sixteenth of an inch (2 mm), tires must be replaced to help prevent your vehicle from skidding and hydroplaning. Built-in treadwear indicators, or wear bars, which look like narrow strips of smooth rubber across the tread will appear on the tire when the tread is worn down to one sixteenth of an inch (2 mm).
When the tire tread wears down to the same height as these wear bars, the tire is worn out and must be replaced.
The tires should also be balanced periodically. An unbalanced tire and wheel assembly may result in irregular tire wear.
Periodically inspect the tire treads for uneven or excessive wear and remove objects such as stones, nails or glass that may be wedged in the tread grooves.
Inspecting the Tire for Damage
Inspect the tire sidewalls for cracking, cuts, bruises and other signs of damage or excessive wear. If internal damage to the tire is suspected, have the tire dismounted and inspected in case it needs to be repaired or replaced. For your safety, tires that are damaged or show signs of excessive wear should not be used because they are more likely to blow out or fail.
Periodically inspect the tire treads and sidewalls for damage, such as bulges in the tread or sidewalls, cracks in the tread groove and separation in the tread or sidewall. If damage is observed or suspected, have the tire inspected by a tire professional.
Safety Practices
WARNING: If your vehicle is stuck in snow, mud or sand, do not rapidly spin the tires; spinning the tires can tear the tire and cause an explosion. A tire can explode in as little as three to five seconds.
WARNING: Do not spin the wheels at over 34 mph (55 km/h). The tires may fail and injure a passenger or bystander.
Highway Hazards
No matter how carefully you drive, there is always the possibility that you could eventually have a flat tire on the highway. Drive slowly to the closest safe area out of traffic. This could further damage the flat tire, but your safety is more important.
If you feel a sudden vibration or ride disturbance while driving, or you suspect your tire or vehicle has been damaged, immediately reduce your speed. Drive with caution until you can safely pull off the road. Stop and inspect the tires for damage. If a tire is under-inflated or damaged, deflate it, remove the wheel and replace it with your spare tire and wheel. If you cannot detect a cause, have the vehicle towed to the nearest repair facility or tire dealer to have the vehicle inspected.
Tire and Wheel Alignment
A bad jolt from hitting a curb or pothole can cause the front end of your vehicle to become misaligned or cause damage to your tires. If your vehicle seems to pull to one side when you are driving, the wheels could be out of alignment. Have an authorized dealer check the wheel alignment periodically.
Wheel misalignment in the front or the rear can cause uneven and rapid treadwear of your tires and should be corrected by an authorized dealer.