Lincoln Nautilus: Blind Spot Information System / Locating the Blind Spot Information System Sensors. Blind Spot Information System Indicators. Blind Spot Information System – Troubleshooting
Locating the Blind Spot Information System Sensors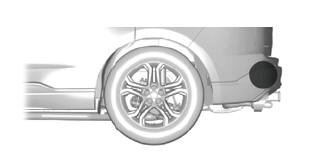 The sensors are behind the rear bumper on both sides of your vehicle.
Note: Keep the sensors free from snow, ice and large accumulations of dirt.
Note: Do not cover the sensors with bumper stickers, repair compound or other objects.
Note: Blocked sensors may affect system accuracy.
If the sensors become blocked, a message may appear in the information display. The alert indicators remain illuminated but the system does not alert you.
Blind Spot Information System Indicators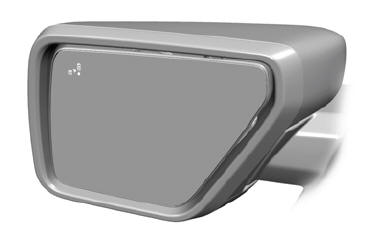 When blind spot information system detects a vehicle, an alert indicator illuminates in the exterior mirror on the side the approaching vehicle is coming from. If you turn the turn signal on for that side of your vehicle, the alert indicator flashes.
Blind Spot Information System – Troubleshooting
Blind Spot Information System – Information Messages

Blind Spot Information System Requirements Blind spot information system turns on when all the following occur: You start your vehicle. You shift into drive (D)...
Other information:
Symptom Charts Symptom Chart - Gasoline Engine Performance Diagnostics in this manual assume a certain skill level and knowledge of Ford-specific diagnostic practices. REFER to: Diagnostic Methods (100-00 General Information, Description and Operation). Condition Actions Excessive engine oil consumption GO to Pinpoint Test A L..
Removal NOTICE: Suspension fasteners are critical parts that affect the performance of vital components and systems. Failure of these fasteners may result in major service expense. Use the same or equivalent parts if replacement is necessary. Do not use a replacement part of lesser quality or substitute design. Tighten fasteners as specified. With the vehicle in NEUTRAL, position ..
Categories
What Is Auto-Start-Stop
The system is designed to help reduce fuel consumption and CO2 emissions by stopping the engine when it is idling, for example at traffic lights.
Auto-Start-Stop Precautions
WARNING: Apply the parking brake, shift into park (P), switch the ignition off and remove the key before you leave your vehicle. Failure to follow this instruction could result in personal injury or death.
WARNING: Apply the parking brake, shift into park (P), switch the ignition off and remove the key before you open the hood or have any service or repair work completed. If you do not switch the ignition off, the engine could restart at any time. Failure to follow this instruction could result in personal injury or d