Lincoln Nautilus: Power Outlet - Vehicles With: 110V Power Outlet
What Is the Power Outlet
The power outlet can power devices that use a household plug.
Power Outlet Precautions
WARNING: Do not keep electrical devices plugged in the power point whenever the device is not in use. Do not use any extension cord with the 110 volt AC power point, since it will defeat the safety protection design. Doing so may cause the power point to overload due to powering multiple devices that can reach beyond the 150 watt load limit and could result in fire or serious injury.
Note: The power point turns off when you switch off the ignition, when the vehicle is not in accessory mode, or when the battery voltage drops below 11 volts.
Locating the Power Outlet
The power outlet is on the instrument panel or the rear of the center console.
Power Outlet Indicators
The power outlet indicator illuminates to let you know the status of the system.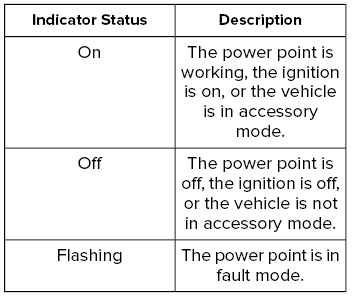 Note: Due to different technologies used on its construction, some devices may exceed the capacity shown on its label when they are initially plugged in.
Note: The power outlet temporarily turns off power when in fault mode if the device exceeds the Watt limit. Unplug your device and switch the ignition off. Switch the ignition back on, but do not plug your device back in. Let the system cool off and switch the ignition off to reset the fault mode. Switch the ignition back on and make sure the indicator light remains on.