Lincoln Nautilus: Tire Pressure Monitoring System / Resetting Tire Pressure Monitoring System
Changing Tires With a Tire Pressure Monitoring System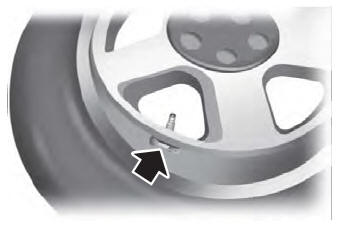 Note: Each road tire is equipped with a tire pressure sensor located inside the wheel and tire assembly cavity. The pressure sensor is attached to the valve stem. The pressure sensor is covered by the tire and is not visible unless the tire is removed. Take care when changing the tire to avoid damaging the sensor.
You should always have your tires serviced by an authorized dealer.
Check the tire pressure periodically (at least monthly) using an accurate tire gauge. See When Inflating Your Tires in this chapter.
When Inflating Your Tires
When putting air into your tires (such as at a gas station or in your garage), the tire pressure monitoring system may not respond immediately to the air added to your tires.
It may take up to two minutes of driving over 20 mph (32 km/h) for the light to turn off after you have filled your tires to the recommended inflation pressure.
When Your Temporary Spare Tire is Installed
When one of your road tires needs to be replaced with the temporary spare, the system will continue to identify an issue to remind you that the damaged road wheel and tire assembly needs to be repaired and put back on your vehicle.
To restore the full function of the tire pressure monitoring system, have the damaged road wheel and tire assembly repaired and remounted on your vehicle.
Tire Pressure Monitoring System – Warning Lamps The low tire pressure warning lamp has combined functions, as it warns you when your tires need air, and when the system is no longer capable of functioning as intended...
Other information:
Special Tool(s) / General Equipment Feeler Gauge Cleaning Clean the exhaust manifold using a suitable solvent. Use a plastic scraping tool to clean the gasket sealing surfaces. Inspection NOTE: New exhaust manifold gaskets, studs, nuts and/or bolts must be installed when an exhaust manifold is serviced...
Remote Start Remote Control Indicators Remote Control Feedback An LED on the remote control provides status feedback of remote start or stop commands. Remote Start Settings Switching Climate Control Last Settings On and Off Using the instrument cluster display controls on the steering wheel, select Settings...