Lincoln Nautilus: Stability Control / Switching Stability Control On and Off. Stability Control Indicator. Stability Control – Troubleshooting
Switching Stability Control On and Off
The system turns on each time you switch the ignition on.
You can switch the electronic stability control system off by pressing and holding the ESC off button for over 15 seconds, or you can press the button again to switch the system on.

Shifting the transmission into reverse (R) disables the system.
You can switch the traction control system off or on independently. See Switching Traction Control On and Off.
Stability Control Indicator

If it does not illuminate when you switch the power on, or remains on, this indicates a malfunction. Have your vehicle checked by an authorized dealer as soon as possible.
Stability Control – Troubleshooting
Stability Control – Information Messages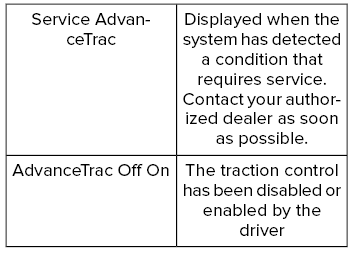 Categories
WARNING: If the tire pressure monitor sensor becomes damaged it may not function.
Note: The use of tire sealant may damage your tire pressure monitoring system and should only be used in roadside emergencies. If you must use a sealant, use the Tire Mobility Kit sealant. Replace the tire pressure monitoring system sensor and valve stem on the wheel by an authorized dealer after use of the sealant.
Note: The tire pressure monitoring system indicator light will illuminate when the spare tire is in use. To restore the full function of the monitoring system, all road wheels equipped with tire pressure monitoring sensors must be mounted on the vehicle.
If you get a flat tire while driving, do not apply the brake hea