Lincoln Nautilus: Pre-Collision Assist / Locating the Pre-Collision Assist Sensors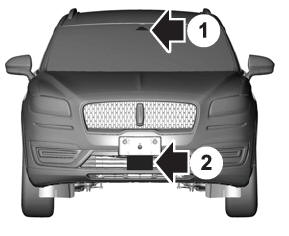 Camera.
Radar sensor (if equipped).
If a message regarding a blocked sensor or camera appears in the information display, something is obstructing the radar signals or camera images. The radar sensor is behind the fascia cover in the center of the lower grille. With a blocked sensor or camera, the system may not function, or performance may reduce. See Pre-Collision Assist – Information Messages.
Note: Proper system operation requires a clear view of the road by the camera. Have any windshield damage in the area of the camera's field of view repaired.
Note: If something hits the front end of your vehicle or damage occurs and your vehicle has a radar sensor, the radar sensing zone could change. This could cause missed or false vehicle detections. Have your vehicle serviced to have the radar checked for proper coverage and operation.
Note: If your vehicle detects excessive heat at the camera or a potential misalignment condition, a message could display in the information display indicating temporary sensor unavailability. When operational conditions are correct, the message deactivates. For example, when the ambient temperature around the sensor decreases or the sensor recalibrates successfully.
What Is Pre-Collision Assist Pre-collision assist detects and warns of approaching hazards in the roadway. If your vehicle is rapidly approaching another stationary vehicle, a vehicle traveling in the same direction as yours, or a pedestrian within your driving path, the system provides multiple levels of assistance to help avoid a collision...
What Is Distance Indication Distance indication displays the gap between your vehicle and the vehicle ahead of you. Note: The graphic does not display if you switch on cruise control or adaptive cruise control...
Other information:
System Operation System Diagram Item Description 1 LH front valve solenoid 2 PSCM 3 PCM 4 ABS module 5 LH front height sensor 6 RH front height sensor 7 LH rear height sensor 8 RH rear height sensor 9 VDM 10 BCM 11 RH front valve solenoid 12 LH rear valve solenoid 13..
Autounlock What Is Autounlock Autounlock is an unlocking feature that unlocks the vehicle doors when your vehicle comes to a stop. Autounlock Requirements Autounlock unlocks all the doors when all of the following occur: The ignition is on, all the doors are closed and your vehicle is moving at a speed greater than 12 mph (20 km/h). Your vehicle comes to a stop. You open the driver door..