Lincoln Nautilus: Tire Pressure Monitoring System (TPMS) / Tire Pressure Monitoring System (TPMS) - Component Location. Description and Operation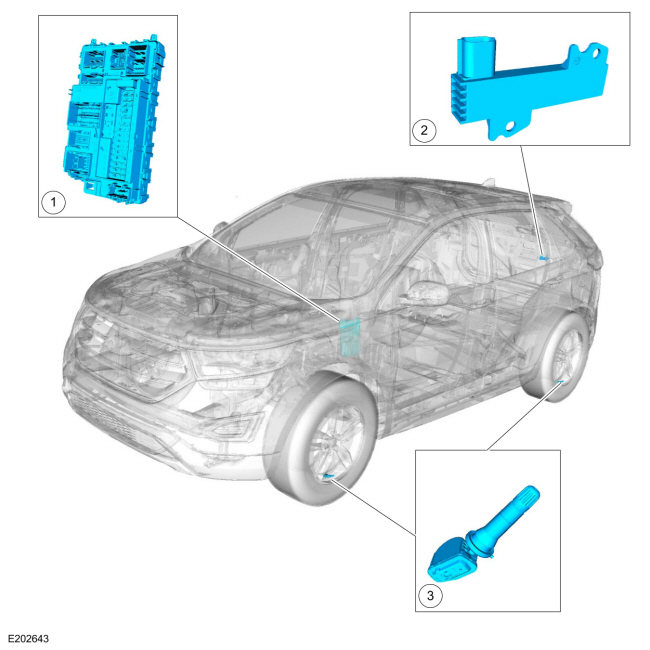 | Item | Description |
| --- | --- |
| 1 | BCM |
| 2 | RTM |
| 3 | TPMS sensor assembly (4 required) |
Overview The BCM uses tire pressure sensors to monitor tire pressure. The sensors use radio signals to transmit the tire pressure to the RTM . The RTM sends the information to the BCM over the Medium Speed Controller Area Network (MS-CAN) and K-Line...
Other information:
Lubricants, Fluids and Capacities NOTE: Per the warranty and policy manual the Ford Engineering-approved refrigerant (see table for service part number) must be used for air conditioning repairs. ITEM CAPACITIES Material: Motorcraft® PAG Refrigerant Compressor Oil / YN-12-D (WSH-M1C231-B) (Mexico) 3...
Materials Name Specification Motorcraft® DOT 4 LV High Performance Motor Vehicle Brake FluidPM-20 WSS-M6C65-A2 Removal NOTICE: Do not spill brake fluid on painted or plastic surfaces or damage to the surface may occur...
Categories
WARNING: If the tire pressure monitor sensor becomes damaged it may not function.
Note: The use of tire sealant may damage your tire pressure monitoring system and should only be used in roadside emergencies. If you must use a sealant, use the Tire Mobility Kit sealant. Replace the tire pressure monitoring system sensor and valve stem on the wheel by an authorized dealer after use of the sealant.
Note: The tire pressure monitoring system indicator light will illuminate when the spare tire is in use. To restore the full function of the monitoring system, all road wheels equipped with tire pressure monitoring sensors must be mounted on the vehicle.
If you get a flat tire while driving, do not apply the brake hea