Lincoln Nautilus: Seatbelts / Automatic Locking Mode
What Is Automatic Locking Mode
This is a safety feature built into the seatbelt retractors that keeps the seatbelts pre-locked.
Engaging Automatic Locking Mode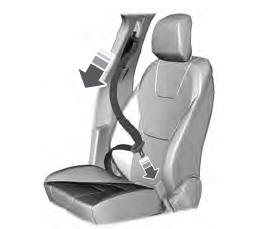 Fasten the combination lap and shoulder belt.
Grasp the shoulder portion and pull downward until you pull the entire belt out.
Allow the belt to retract. As the belt retracts, you will hear a clicking sound. This indicates the seatbelt is now in the automatic locking mode.
Disengaging Automatic Locking Mode
Unbuckle the combination lap and shoulder belt and allow it to retract completely to disengage the automatic locking mode and activate the vehicle sensitive locking mode.
What is Sensitive Locking Mode Sensitive locking mode is a seatbelt retractor feature that allows shoulder belt length adjustment according to your movements and locking in response to vehicle movement...
WARNING: Always ride and drive with your seatback upright and properly fasten your seatbelt. Fit the lap portion of the seatbelt snugly and low across the hips...
Other information:
System Operation System Diagram Item Description 1 EPAS gear 2 EPAS gear motor 3 EPAS gear motor position sensor 4 EPAS gear motor torque sensor 5 PSCM 6 ABS module 7 BCM 8 PAM 9 PCM Network Message Chart Module Network Input Messages: Power Steering Control Module (PSCM..
If you plan on storing your vehicle for 30 days or more, the following maintenance recommendations ensures your vehicle stays in good operating condition. Under various conditions, long-term storage may lead to degraded engine performance or failure unless you use specific precautions to preserve your vehicle. General Store all vehicles in a dry, ventilated place. If vehicles are stored..