Lincoln Nautilus: Seatbelts / Sensitive Locking Mode
What is Sensitive Locking Mode
Sensitive locking mode is a seatbelt retractor feature that allows shoulder belt length adjustment according to your movements and locking in response to vehicle movement.
How Does Sensitive Locking Mode Work
If the driver suddenly brakes, turns a corner sharply, or the vehicle receives an impact of about 5 mph (8 km/h) or more, the seatbelts lock to help reduce forward movement of the driver and passengers.
In addition, the seatbelt retractor locks if you pull the seatbelt webbing out too quickly. If the retractor locks, slowly lower the height adjuster to allow the seatbelt to retract.
If the retractor does not unlock, pull the seatbelt out slowly then feed a small length of webbing back toward the stowed position.
For rear seatbelts, recline the rear seat backrest or push the seat backrest cushion away from the seatbelt. Feed a small length of webbing back toward the stowed position.
Categories
Parking Aid Indicators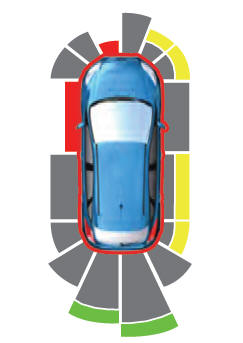 The system provides object distance indication through the information and entertainment display.
As the distance to the object decreases, the indicator waves and the lines move toward the vehicle icon. If there is no object detected, the distance indicator lines are grey.