Lincoln Nautilus: Fuel and Refueling / Fuel Quality
Selecting the Correct Fuel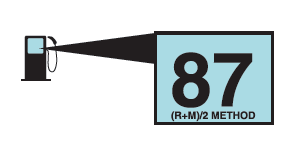 Your vehicle operates on regular unleaded gasoline with a minimum pump (R+M)/2 octane rating of 87.
Some fuel stations, particularly those in high altitude areas, offer fuels posted as regular unleaded gasoline with an octane rating below 87. The use of these fuels could result in engine damage that will not be covered by the vehicle Warranty.
For best overall vehicle and engine performance, premium fuel with an octane rating of 91 or higher is recommended. The performance gained by using premium fuel is most noticeable in hot weather as well as other conditions, for example when towing a trailer. See Towing a Trailer.
Do not be concerned if the engine sometimes knocks lightly. However, if the engine knocks heavily while using fuel with the recommended octane rating, contact an authorized dealer to prevent any engine damage.
We recommend Top Tier detergent gasolines, where available to help minimize engine deposits and maintain optimal vehicle and engine performance.
For additional information, visit www.toptiergas.com.
Note: Use of any fuel for which the vehicle was not designed can impair the emission control system, cause loss of vehicle performance, and cause damage to the engine which may not be covered by the vehicle Warranty.
Do not use:
Diesel fuel.
Fuels containing kerosene or paraffin.
Fuel containing more than 15% ethanol or E85 fuel.
Fuels containing methanol.
Fuels containing metallic-based additives, including manganese-based compounds.
Fuels containing the octane booster additive, methylcyclopentadienyl manganese tricarbonyl (MMT).
Leaded fuel, using leaded fuel is prohibited by law.
The use of fuels with metallic compounds such as methylcyclopentadienyl manganese tricarbonyl, which is a manganese-based fuel additive, will impair engine performance and affect the emission control system.
WARNING: Do not overfill the fuel tank. The pressure in an overfilled tank may cause leakage and lead to fuel spray and fire. WARNING: The fuel system may be under pressure...
Locating the Fuel Filler Funnel Easy Fuel Capless Filler The fuel filler funnel is under the luggage compartment floor covering. Running Out of Fuel Filling a Portable Fuel Container WARNING: Flow of fuel through a fuel pump nozzle can produce static electricity...
Other information:
Repair WARNING: To minimize the risk of injury, always wear protective gloves when working with a steamer. Failure to follow these instructions may result in serious personal injury. NOTE: Click here to view a video version of the seat heater mat removal and installation...
Special Tool(s) / General Equipment Plastic Scraper Nylon Bristle Disk Plastic Razor Blade Lint-Free Towel Isopropyl Alcohol – 90 Percent Minimum Materials Name Specification Motorcraft® Silicone Gasket RemoverZC-30-A, AZC-30-C - Motorcraft® Metal Surface Prep WipesZC-31-B - Motorcraft® Engine Shampoo and DegreaserZC-20, AZC-20..
Categories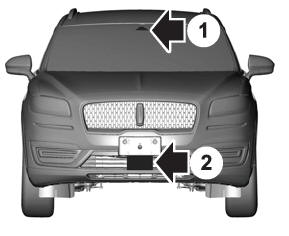 Camera. Radar sensor (if equipped).
If a message regarding a blocked sensor or camera appears in the information display, something is obstructing the radar signals or camera images. The radar sensor is behind the fascia cover in the center of the lower grille. With a blocked sensor or camera, the system may not function, or performance may reduce. See Pre-Collision Assist – Information Messages.