Lincoln Nautilus: Wipers and Washers / Autowipers
What Are Autowipers
Autowipers turns on and controls the speed and frequency of the windshield wipers.
Autowipers Settings
Using the instrument cluster controls on the steering wheel, select Settings.
Select Vehicle.
Select Wipers.
Switch Rain Sensing on or off.
Note: When you switch the feature off, the wipers do not operate based on the rain sensor. When you switch on the windshield wipers to the intermittent wipe position with the feature off, the wipers use the wipe speed set by the rotary control.
Adjusting the Sensitivity of the Rain Sensor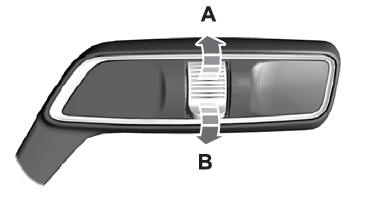 High sensitivity.
Low sensitivity.
Use the rotary control to set the sensitivity of the rain sensor.
When you select high sensitivity, the wipers operate when the sensor detects a small amount of water on the windshield.
When you select low sensitivity, the wipers operate when the sensor detects a large amount of water on the windshield.
Wiper Precautions Do not operate the wipers on a dry windshield. This could scratch the glass or damage the wiper blades. Use the windshield washers before wiping a dry windshield...
Intermittent wipe. Continuous wipe. Rear window wiper off. ..
Other information:
The RDU is available with 2.58 drive ratio. Rear Drive Axle and Differential The rear drive axle and differential unit (RDU ) is a cast aluminum differential assembly located in the rear of the vehicle consisting of the following components: Crown wheel and pinion An electrically activated and mechanically engaged clutch pack acting on the rear drive axles, that applies or removes..
WARNING: Always refer to Material Safety Data Sheet (MSDS) when handling chemicals and wear protective equipment as directed. Examples may include but are not limited to respirators and chemically resistant gloves. Failure to follow these instructions may result in serious personal injury. WARNING: Always wear protective equipment including eye protection with side sh..