Lincoln Nautilus: Battery, Mounting and Cables / Battery and Cables - Overview. Description and Operation
Overview
The battery and cable system consists of the following:
Battery
Battery cable, with a generator current sensor and a battery monitoring sensor
BJB
Battery tray
Categories
Parking Aid Indicators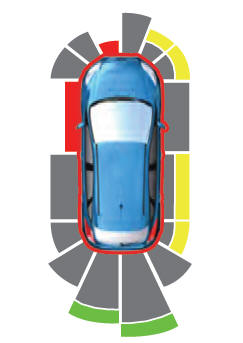 The system provides object distance indication through the information and entertainment display.
As the distance to the object decreases, the indicator waves and the lines move toward the vehicle icon. If there is no object detected, the distance indicator lines are grey.
Copyright © 2022 www.linautilus.com