Lincoln Nautilus: Driving Hints / Driving Economically. Floor Mats
Driving Economically
The following helps to improve fuel consumption:
Drive smoothly, accelerate gently and anticipate the road ahead to avoid heavy braking.
Regularly check your tire pressures and make sure that they are inflated to the correct pressure.
Follow the recommended maintenance schedule and carry out the recommended checks.
Plan your journey and check the traffic before you set off. It is more efficient to combine errands into a single trip whenever possible.
Avoid idling the engine in cold weather or for extended periods. Start the engine only when you are ready to set off.
Do not carry unnecessary weight in your vehicle as extra weight wastes fuel.
Do not add unnecessary accessories to the exterior of your vehicle, for example running boards. If you use a roof rack, remember to fold it down or remove it when not in use.
Do not shift into neutral when you are braking or when your vehicle is slowing down.
Shut all windows when driving at high speeds.
Switch off all electric systems when not in use, for example air conditioning. Make sure that you unplug any accessories from the auxiliary power points when not in use.
Breaking-In You need to break in new tires for approximately 300 mi (480 km). During this time, your vehicle may exhibit some unusual driving characteristics...
WARNING: Use a floor mat designed to fit the footwell of your vehicle that does not obstruct the pedal area. Failure to follow this instruction could result in the loss of control of your vehicle, personal injury or death...
Other information:
Changing the Instrument Cluster Display Language Note: Available languages vary by region. Changing the Measure Unit Changing the Temperature Unit ..
Keyless Entry – Frequently Asked Questions Why does the keypad not accept the access code? If you enter the access code too fast on the keypad, the unlock function may not work. Slowly re-enter the access code. Why does the passive key not work? The system deactivates passive keys left inside your vehicle when you lock it. You cannot switch the ignition on using a deactivated passive key. P..
Categories
Clearing the Garage Door Opener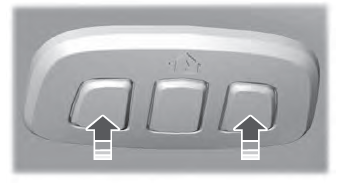 Press and hold the outer two function buttons simultaneously for approximately 10 seconds until the indicator light above the buttons flashes rapidly. When the indicator light flashes, release the buttons.
Copyright © 2022 www.linautilus.com