Lincoln Nautilus: Garage Door Opener / Clearing the Garage Door Opener. Reprogramming the Garage Door Opener. Garage Door Opener Radio Frequencies
Clearing the Garage Door Opener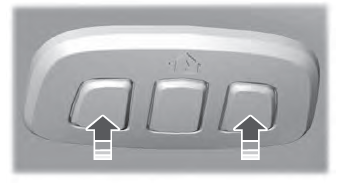 Press and hold the outer two function buttons simultaneously for approximately 10 seconds until the indicator light above the buttons flashes rapidly.
When the indicator light flashes, release the buttons.
Note: You cannot erase individual buttons.
Reprogramming the Garage Door Opener
To program a device to a previously trained button, follow these steps:
Press and hold the desired button. Do NOT release the button.
The indicator light begins to flash after 20 seconds. Without releasing the button, follow programming steps.
Garage Door Opener Radio Frequencies
FCC and RSS-210 Industry Canada Compliance
WARNING: Changes or modifications not expressively approved by the party responsible for compliance could void the user's authority to operate the equipment. The term "IC:" before the radio certification number only signifies that Industry Canada technical specifications were met.
This device complies with Part 15 of the FCC Rules and with RSS-210 of Industry Canada. Operation is subject to the following two conditions: (1) this device may not cause harmful interference, and (2) this device must accept any interference received, including interference that could cause undesired operation.
This equipment complies with FCC radiation exposure limits set forth for an uncontrolled environment. End Users must follow the specific operating instructions for satisfying RF exposure compliance. This transmitter must be at least 8 in (20 cm) from the user and must not be co-located or operating in conjunction with any other antenna or transmitter.