Lincoln Nautilus: Easy Entry and Exit
How Does Easy Entry and Exit Work
Easy entry and exit moves the driver seat rearward up to 2 in (5 cm) and the steering column up when you switch the ignition off. The driver seat and steering column return to their previous positions when you switch the ignition on.
Note: Depending on your vehicle, the column may move up and in.
Switching Easy Entry and Exit On and Off
Using the touchscreen, select Settings.
Select Vehicle.
Select Easy Entry/Exit.
If you press any adjustment or memory button when in easy exit mode, the system cancels the operation.
Unlocking the Doors Enter the factory-set five-digit code or your personal code. You must press each number within five seconds of each other. Press 3-4 within five seconds to unlock all doors...
Other information:
What Is the Tachometer Shows the engine speed. The red line thickens where the engine speed enters the overspeed limiter. What Is the Speedometer Displays the vehicle speed. Fuel Gauge What Is the Fuel Gauge Indicates approximately how much fuel is in the fuel tank. Fuel Gauge Limitations The fuel gauge may not provide an accurate reading when your vehicle is on an incline. Locating the Fuel F..
Service your vehicle regularly to help maintain its roadworthiness and resale value. There is a large network of authorized dealers that are there to help you with their professional servicing expertise. We believe that their specially trained technicians are best qualified to service your vehicle properly and expertly. They are supported by a wide range of highly specialized tools develop..
Categories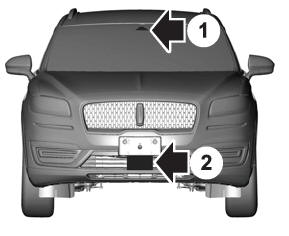 Camera. Radar sensor (if equipped).
If a message regarding a blocked sensor or camera appears in the information display, something is obstructing the radar signals or camera images. The radar sensor is behind the fascia cover in the center of the lower grille. With a blocked sensor or camera, the system may not function, or performance may reduce. See Pre-Collision Assist – Information Messages.