Lincoln Nautilus: Steering Wheel / Horn. Resetting the Stopping Position - Vehicles With: Power Adjustable Steering Column. Switching the Heated Steering Wheel On and Off
Horn

Press on the center of the steering wheel near the horn icon to activate the horn.
Resetting the Stopping Position - Vehicles With: Power Adjustable Steering Column
Note: The steering wheel stops when it detects an obstruction. This sets a new stopping position.
To reset the steering column to its normal stopping position:
Confirm there is nothing obstructing the motion of the steering column.
Press and hold the steering column control until the steering column stops moving.
Press the steering column control again.

Note: The steering column may start to move again.

When the steering column stops, continue holding the control for a few seconds.
Repeat for each direction, as necessary.
Switching the Heated Steering Wheel On and Off (If Equipped)
To switch the heated steering wheel on or off, press the button on the touchscreen near the climate controls.
Note: A sensor regulates the temperature of the steering wheel.
WARNING: Do not adjust the steering wheel when your vehicle is moving. Note: Make sure that you are sitting in the correct position. See Sitting in the Correct Position...
Other information:
Replacing a Lost Key or Remote Control You can purchase replacement keys or remote controls from an authorized dealer. Authorized dealers can program remote controls for your vehicle. Programming the Remote Control Note: You can program a maximum of four remote controls to your vehicle. Note: If your programmed remote controls are lost or stolen and you do not have an extra coded remote, you..
Service your vehicle regularly to help maintain its roadworthiness and resale value. There is a large network of authorized dealers that are there to help you with their professional servicing expertise. We believe that their specially trained technicians are best qualified to service your vehicle properly and expertly. They are supported by a wide range of highly specialized tools develop..
Categories
Parking Aid Indicators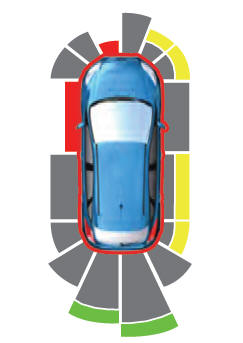 The system provides object distance indication through the information and entertainment display.
As the distance to the object decreases, the indicator waves and the lines move toward the vehicle icon. If there is no object detected, the distance indicator lines are grey.