Lincoln Nautilus: Wheels and Tires / Safety Precautions - Overview. Description and Operation
Overview

WARNING: Before servicing any tire, ask the customer if anyone injected a tire sealant into the tire. Tire sealants may be flammable and can burn or explode if exposed to an ignition source. Failure to follow this instruction may result in serious personal injury.
NOTICE: Do not clean aluminum wheels with steel wool, abrasive-type cleaners or strong detergents or damage to the wheel finish may occur.
NOTICE: When removing balance weights from a wheel, use only industry standard tools. To remove clip-on style balance weights, use designated wheel weight removal pliers. For adhesive style balance weights, use designated adhesive weight removal pliers or a non-metal adhesive weight scraper tool. Never use a screwdriver or any other sharp metallic instrument to remove adhesive wheel weights. If needed, denatured alcohol may be used to assist in removing any adhesive residue from the wheel. Failure to follow these guidelines could result in damage to the wheel finish.
Factory-installed tires and wheels are designed to operate satisfactorily with loads up to and including full-rated load capacity when inflated to recommended inflation pressures.
Correct tire pressure and driving techniques have an important influence on tire life. Heavy cornering, excessively rapid acceleration and unnecessary sharp braking increase tire wear.
To equalize tire wear, the tires should be rotated at recommended intervals.
Preliminary Inspection Verify the customer concern by carrying out a road test on a smooth road. If any vibrations are apparent, Refer to the Symptom Chart: NVH...
Other information:
Special Tool(s) / General Equipment Vehicle/Axle Stands Removal NOTICE: Suspension fasteners are critical parts that affect the performance of vital components and systems. Failure of these fasteners may result in major service expense...
Removal NOTE: Removal steps in this procedure may contain installation details. All vehicles Remove the RH loadspace trim panel. Refer to: Loadspace Trim Panel (501-05 Interior Trim and Ornamentation) . Subwoofer with integral amplifier Remove the bolts and the subwoofer assembly...
Categories
Clearing the Garage Door Opener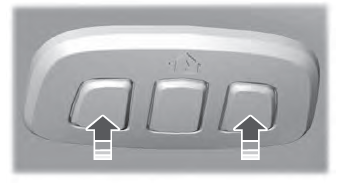 Press and hold the outer two function buttons simultaneously for approximately 10 seconds until the indicator light above the buttons flashes rapidly. When the indicator light flashes, release the buttons.