Lincoln Nautilus: MyKey™ / Using MyKey With Remote Start Systems. MyKey – Troubleshooting
Using MyKey With Remote Start Systems
MyKey is not compatible with non Lincoln-approved, aftermarket remote start systems. If you choose to install a remote start system, see an authorized dealer for a Lincoln-approved remote start system.
MyKey – Troubleshooting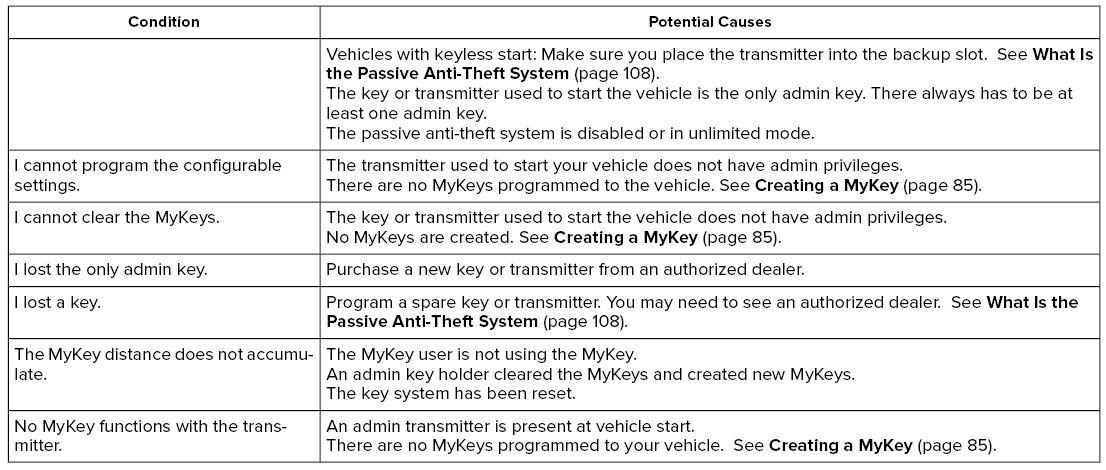 Clearing All MyKeys When you clear your MyKeys, you remove all restrictions and return all MyKeys to their original admin key status at once. To clear all MyKeys of all MyKey settings, use the information display...
Other information:
Reduced Engine Performance WARNING: If you continue to drive your vehicle when the engine is overheating, the engine could stop without warning. Failure to follow this instruction could result in the loss of control of your vehicle. If the engine coolant temperature gauge needle moves to the upper limit position, the engine is overheating. See What Is the Engine Coolant Temperature Gauge. ..
AM/FM Radio Limitations The further you travel from an AM or FM station, the weaker the signal and the weaker the reception. Hills, mountains, tall buildings, bridges, tunnels, freeway overpasses, parking garages, dense tree foliage and thunderstorms can interfere with the reception. When you pass a ground-based broadcast repeating tower, a stronger signal may overtake a weaker one and res..