Lincoln Nautilus: Wheel and Tire Information / Using Snow Chains
WARNING: Do not exceed 30 mph (50 km/h). Failure to follow this instruction could result in the loss of control of your vehicle, personal injury or death.
WARNING: Do not use snow chains on snow-free roads.
WARNING: Only fit snow chains to specified tires.
WARNING: If your vehicle is fitted with wheel trims, remove them before fitting snow chains.
WARNING: Wheels and tires must be the same size, load index and speed rating as those originally fitted on the vehicle. Use of any other tire or wheel can affect the safety and performance of your vehicle. Additionally, the use of non-recommended tires and wheels can cause steering, suspension, axle, transfer case or power transfer unit failure. Follow the recommended tire inflation pressures found on the Safety Compliance Certification label, or the Tire Label on the B-Pillar or the edge of the driver door. Failure to follow this instruction could result in loss of vehicle control, vehicle rollover, or personal injury or death.
Only use snow chains on the front wheels. Install snow chains in pairs. Do not use self-tensioning snow chains.
Only use snow chains on the following specified tire size:
235/60R18 all season tires.
Only use ultra low profile snow chains that are 10 mm or less.
We recommend you use steel wheels of the same size and specification if snow chains are required because chains may chip aluminum wheels.
Follow these guidelines when using snow tires and traction devices:
If possible, avoid fully loading your vehicle.
Purchase snow chains from a manufacturer that clearly labels body to tire dimension restrictions.
When driving with snow chains do not exceed 30 mph (50 km/h) or the maximum speed recommended by the chain manufacturer, whichever is less.
Drive cautiously. If you hear the snow chains rub or bang against the vehicle, stop and tighten them. If this does not work, remove the snow chains to prevent vehicle damage.
Remove the snow chains when they are no longer needed. Do not use snow chains on dry roads.
If a temporary spare wheel is mounted on your vehicle, do not use snow chains on the axle with the temporary spare wheel.
Use snow chains that fit against the sidewall of the tire to prevent the chains from touching the wheel rims or suspension.
If you have any questions regarding snow tires or snow chains, please contact your authorized dealer.
Your vehicle is equipped with tires designed to provide a safe ride and handling capability. WARNING: Only use replacement tires and wheels that are the same size, load index, speed rating and type (such as P-metric versus LT-metric or all-season versus all-terrain) as those originally provided by Ford...
Other information:
Lubricants, Fluids, Sealers and Adhesives Item Specifications Motorcraft® DOT 4 LV High Performance Motor Vehicle Brake Fluid / PM-20 WSS-M6C65-A2 Torque Specifications Item Nm lb-ft lb-in Front caliper bleeder screw 17 - 150 Rear caliper b..
Check NOTE: Road Force® values in illustrations are shown in pounds. NOTE: Match mounting is a technique used to reduce radial runout or road force on wheel and tire assemblies. Excessive runout is a source of ride quality complaints and match mounting can be used to minimize the runout. Match mounting can be accomplished by changing the position of the tire on the wheel. NOTE: P..
Categories
Parking Aid Indicators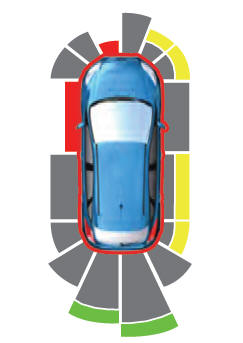 The system provides object distance indication through the information and entertainment display.
As the distance to the object decreases, the indicator waves and the lines move toward the vehicle icon. If there is no object detected, the distance indicator lines are grey.