Lincoln Nautilus: Climate Control System - General Information / Climate Control System - Component Location. Description and Operation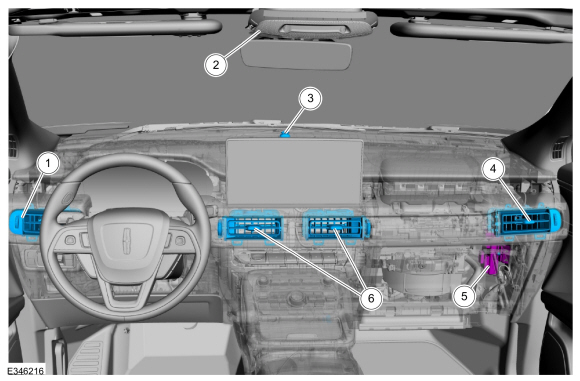 | Item | Description |
| --- | --- |
| 1 | Driver side register |
| 2 | In-vehicle temperature & humidity sensor |
| 3 | Sunload sensor |
| 4 | Passenger side register |
| 5 | HVAC control module |
| 6 | Center registers |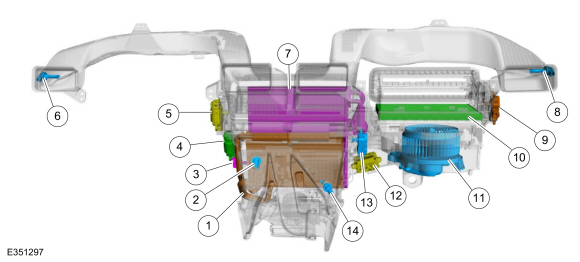 | Item | Description |
| --- | --- |
| 1 | Heater core |
| 2 | Driver side footwell air discharge temperature sensor |
| 3 | Evaporator temperature sensor |
| 4 | Driver temperature door actuator |
| 5 | Air distribution door actuator |
| 6 | Driver side register air discharge temperature sensor |
| 7 | Evaporator |
| 8 | Passenger side register air discharge temperature sensor |
| 9 | Air inlet door actuator |
| 10 | Cabin air filter |
| 11 | Blower motor |
| 12 | Blower motor speed control |
| 13 | Passenger temperature door actuator |
| 14 | Passenger side footwell air discharge temperature sensor |
2.7L Gas engine shown others similar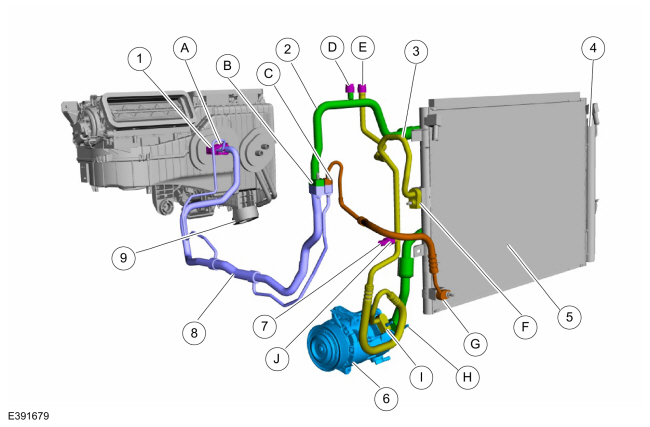 | Item | Description |
| --- | --- |
| 1 | Thermostatic expansion valve |
| 2 | A/C compressor inlet line |
| 3 | A/C compressor outlet line |
| 4 | Desiccant bag |
| 5 | Condenser |
| 6 | A/C compressor |
| 7 | A/C pressure transducer |
| 8 | Evaporator inlet and outlet manifold |
| 9 | Condensation drain |
| A | Thermostatic expansion valve fitting |
| B | A/C compressor inlet line to evaporator inlet and outlet manifold fitting |
| C | Condenser to evaporator inlet and outlet manifold fitting |
| D | Low side service port |
| E | High side service port |
| F | Condenser inlet fitting |
| G | Condenser outlet fitting |
| H | Compressor inlet fitting |
| I | Compressor outlet fitting |
| J | A/C pressure transducer fitting |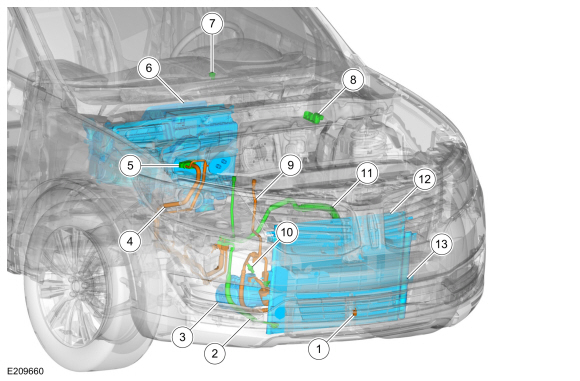 | Item | Description |
| --- | --- |
| 1 | Ambient air temperature sensor |
| 2 | Condenser outlet line |
| 3 | A/C compressor |
| 4 | Evaporator inlet and outlet manifold |
| 5 | Thermostatic expansion valve |
| 6 | Climate control housing |
| 7 | Sunload sensor |
| 8 | Ambient air quality sensor (only for China) |
| 9 | A/C compressor outlet line |
| 10 | A/C pressure transducer |
| 11 | A/C compressor inlet line |
| 12 | Condenser |
| 13 | Receiver drier element |
Vehicles equipped with Auto Start Stop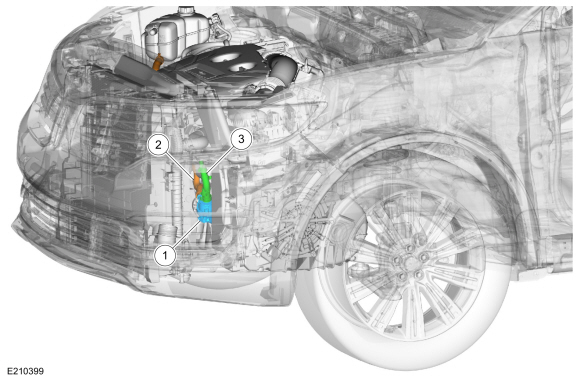 | Item | Description |
| --- | --- |
| 1 | Cabin heater coolant pump |
| 2 | Cabin heater coolant pump outlet hose |
| 3 | Cabin heater coolant pump inlet hose |
Lubricants, Fluids and Capacities NOTE: Per the warranty and policy manual the Ford Engineering-approved refrigerant (see table for service part number) must be used for air conditioning repairs...
Overview The DATC system maintains the selected vehicle interior temperature by heating and/or cooling the air depending on the HVAC control panel selection...
Other information:
Locating the USB Ports Data Transfer USB Ports The USB Ports could be in the following locations: On the lower instrument panel. Inside the media bin. Inside the center console. Note: These USB ports can also charge devices. Note: Not all USB ports in your vehicle have data transfer capabilities...
System Operation Rear Only Parking Aid Camera System Diagram Item Description 1 Video signal 2 PCM 3 ABS Module 4 PSCM 5 GWM 6 APIM 7 BCM 8 PAM 9 Rear parking aid camera 10 TRM 11 With trailer tow 12 FDIM Network Message Chart BCM Net..
Categories
How Does Traction Control Work
If your vehicle begins to slide, the system applies the brakes to individual wheels and, when needed, reduces power at the same time. If the wheels spin when accelerating on slippery or loose surfaces, the system reduces power in order to increase traction.
Switching Traction Control On and Off
WARNING: The stability and traction control light illuminates steadily if the system detects a failure. Make sure you did not manually disable the traction control system using the information display controls or the switch. If the stability control and traction control light is still illuminating steadily, have the system serviced by an authorized dealer immediately. Operating your vehicle with the traction co