Lincoln Nautilus: Driver Alert
What Is Driver Alert
Driver alert alerts you if it determines that you are becoming drowsy or if your driving deteriorates.
How Does Driver Alert Work
Driver Alert calculates your alertness level based on your driving behavior in relation to the lane markings and other factors through use of the front camera sensor behind the interior mirror.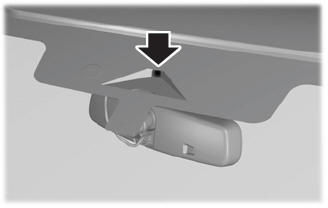 Driver Alert Precautions
WARNING: You are responsible for controlling your vehicle at all times. The system is designed to be an aid and does not relieve you of your responsibility to drive with due care and attention. Failure to follow this instruction could result in the loss of control of your vehicle, personal injury or death.
WARNING: Take regular rest breaks if you feel tired. Do not wait for the system to warn you.
WARNING: Certain driving styles may result in the system warning you even if you are not feeling tired.
WARNING: In cold and severe weather conditions the system may not function. Rain, snow and spray can all limit sensor performance.
WARNING: The system will not operate if the sensor cannot track the road lane markings.
WARNING: If damage occurs in the immediate area surrounding the sensor, have your vehicle checked as soon as possible.
WARNING: The system may not correctly operate if your vehicle is fitted with a suspension kit not approved by us.
WARNING: The system may not operate properly if the sensor is blocked. Keep the windshield free from obstruction.
Note: If something is blocking the camera or damaged the windshield, Driver Alert may not function.
Driver Alert Limitations
Driver alert may not function correctly if:
The sensor cannot track the road lane markings.
Your vehicle's speed is less than approximately 40 mph (65 km/h).
Switching Driver Alert On and Off
Using the instrument cluster display controls on the steering wheel, select SETTINGS.
Select Driver assistance.
Switch Driver alert on or off.
Note: The system remains on or off depending on how it was last set.
Resetting Driver Alert
You can reset the system by either:
Switching the ignition off and on.
Stopping the vehicle and then opening and closing the driver door.
Driver Alert – Troubleshooting
Driver Alert – Information Messages

Pre-Collision Assist – Information Messages Pre-Collision Assist – Frequently Asked Questions Camera Troubleshooting The windshield in front of the camera is dirty or obstructed...
Other information:
Materials Name Specification Motorcraft® High Performance Engine RTV SiliconeTA-357 WSE-M4G323-A6 Motorcraft® Silicone Gasket RemoverZC-30-A, AZC-30-C - Motorcraft® Metal Surface Prep WipesZC-31-B - Motorcraft® Metal Brake Parts CleanerPM-4-A, PM-4-B, APM-4-C - Removal NOTE: Removal steps in this procedure may contain inst..
Removal NOTICE: During the removal of components, cap, tape or otherwise appropriately protect all openings to prevent the ingress of dirt or other contamination. Remove protective materials prior to installation. NOTE: Removal steps in this procedure may contain installation details. Recover the refrigerant. Refer to the appropriate Recovery procedure in Group 412. ..