Lincoln Nautilus: Garage Door Opener / Garage Door Opener Limitations. Programming the Garage Door Opener to Your Hand-Held Transmitter
Garage Door Opener Limitations
Canadian radio-frequency laws require transmitter signals to time-out (or quit) after several seconds – which may not be long enough for HomeLink to pick up the signal.
U.S. gate operators time-out in the same manner.
Note: If programming a garage door opener or gate operator, it is advised to unplug the device during the "cycling" process to prevent possible overheating.
Programming the Garage Door Opener to Your Hand-Held Transmitter
This process is to program your in-vehicle HomeLink function button with your hand-held transmitter.
Note: The programming steps below assume you will be programming HomeLink that was not previously programmed. If your HomeLink was previously programmed, you may need to erase your HomeLink buttons. See Clearing the Garage Door Opener.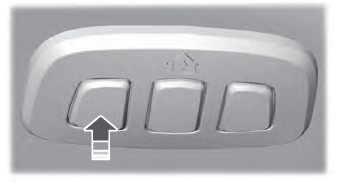 With your vehicle parked outside of the garage, switch your ignition to the on position, but do not start your vehicle.
Press and release one of the three HomeLink function buttons that you would like to program.
Hold your hand-held garage door transmitter 1–3 in (2–8 cm) away from the HomeLink button you want to program.
Press and hold the hand-held transmitter button you want to program while watching the indicator light on HomeLink. Continue to hold the hand-held button until the HomeLink indicator light flashes rapidly or is continuously on.

Note: You may need to use a different method if you live in Canada or have difficulties programming your gate operator or garage door opener. See Programming the Garage Door Opener to Your Gate Opener Motor.

Press and hold the HomeLink button you programmed for two seconds, then release. You may need to do this twice to activate the door.

Note: If the indicator light stays on, the programming is complete.

Note: If the HomeLink indicator flashes rapidly, repeat step 5.

Note: If your device still does not operate, you must program your garage door. See Programming the Garage Door Opener to Your Garage Door Opener Motor.

To program additional buttons, repeat Steps 1 – 4.
Categories
How Does Traction Control Work
If your vehicle begins to slide, the system applies the brakes to individual wheels and, when needed, reduces power at the same time. If the wheels spin when accelerating on slippery or loose surfaces, the system reduces power in order to increase traction.
Switching Traction Control On and Off
WARNING: The stability and traction control light illuminates steadily if the system detects a failure. Make sure you did not manually disable the traction control system using the information display controls or the switch. If the stability control and traction control light is still illuminating steadily, have the system serviced by an authorized dealer immediately. Operating your vehicle with the traction co