Lincoln Nautilus: Airbags / How Do The Side Airbags Work
WARNING: Do not place objects or mount equipment on or near the airbag cover, on the side of the front or rear seatbacks, or in areas that may come into contact with a deploying airbag. Failure to follow these instructions may increase the risk of personal injury in the event of a crash.
WARNING: Do not use accessory seat covers. The use of accessory seat covers may prevent the deployment of the side airbags and increase the risk of injury in an accident.
WARNING: Do not lean your head on the door. The side airbag could injure you as it deploys from the side of the seatback.
The side airbags are on the outermost side of the seat backrests of the front seats. In certain sideways crashes or rollovers, the airbags will be inflated. The airbag was designed to inflate between the door panel and occupant to further enhance the protection provided occupants in side impact crashes.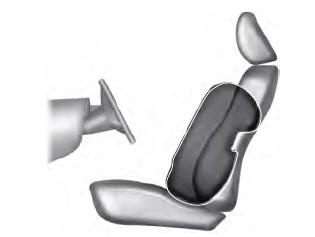 The system consists of the following:
A label or embossed side panel indicating that side airbags are fitted to your vehicle.
Side airbags inside the driver and front passenger seat backrests.
Crash sensors and monitoring system with readiness indicator.
The driver and front passenger airbags deploy during significant frontal and near frontal crashes. The driver and passenger front airbag system consists of: Driver and passenger airbag modules...
How Do The Knee Airbags Work WARNING: Close the glove box door when your vehicle is moving. Failure to follow this instruction could reduce the effectiveness of the passenger knee airbag and increase the risk of injury in a crash...
Other information:
Activation NOTE: The procedure used to download the audio files varies, depending on the web browser used. Using a suitable web browser, download all of the diagnostic sound tracks to a suitable USB drive. 125Hz Sample 100Hz Sample 80Hz Sample 63Hz Sample 50Hz Sample 40Hz Sample ..
NOTE: If an overnight drive is done, the fan air or road air blast can cause erroneous readings. NOTE: When diagnosing engine oil leaks, the source and location of the leak must be positively identified prior to repair. Prior to carrying out this procedure, clean the cylinder block, cylinder heads, valve covers, oil pan and flywheel/flexplate with a suitable solvent to remove al..