Lincoln Nautilus: Memory Function
How Does the Memory Function Work
The memory function recalls the position of these features:
Driver seat.
Power mirrors.
Optional power steering column.
Memory Function Precautions
WARNING: Before activating the memory seat, make sure that the area immediately surrounding the seat is clear of obstructions and that all occupants are clear of moving parts.
WARNING: Do not use the memory function when your vehicle is moving.
Locating the Memory Function Buttons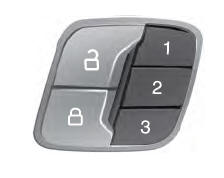 The memory function buttons are on the driver door.
Saving a Preset Position
Switch the ignition on.
Adjust the memory features to your preferred position.
Press and hold the preferred preset button until you hear a single tone.
A confirmation message appears in the information display.
You can save up to three preset memory positions at any time.
Recalling a Preset Position
Press and release a preset button.
Note: You can only recall a preset memory position when the ignition is off, or when you place the transmission in park (P) or neutral (N) if the ignition is on and the vehicle is not moving.
Note: Pressing any of the memory feature controls during a memory recall cancels the operation.
You can also recall a preset memory position by:
Pressing the unlock button on your remote control if you linked it to a preset position.
Unlocking the intelligent driver door handle if a linked remote control is present.
Note: Using a linked remote control to recall your memory position when the ignition is off moves the seat and steering column to the easy entry position.
Rear Occupant Alert System Indicators Displays when you switch your vehicle off after the alert conditions are met. The message displays for a short period of time...
Other information:
What Is Automatic Return to Park (P) Your vehicle shifts into park (P) if you attempt to exit your vehicle without the transmission in park (P). How Does Automatic Return to Park (P) Work Your vehicle shifts into park (P) when your vehicle is stationary and any of the following occur: You switch the vehicle off. You open the driver door with your seatbelt unlatched. You unlatch the drive..
Properly Adjusting the Driver and Front Passenger Seats WARNING: National Highway Traffic Safety Administration (NHTSA) recommends a minimum distance of at least 10 in (25 cm) between an occupant's chest and the driver airbag module. To properly position yourself away from the airbag: Move your seat to the rear as far as you can while still reaching the pedals comfortably. Recline the ..