Lincoln Nautilus: Suspension System - General Information / Rear Toe Adjustment. General Procedures
Special Tool(s) / General Equipment
Adjustment
NOTICE: Do not use any tools or equipment to move the wheel and tire assembly or suspension components while checking for relative movement. Suspension damage may occur. The use of tools or equipment will also create relative movement that may not exist when using hand force. Relative movement must be measured using hand force only.
Using alignment equipment and the manufacturer's instructions, check the rear toe setting on both sides.
Use the General Equipment: Wheel Alignment System
Loosen the cam bolt nut counterclockwise (CCW) through 2 complete turns and turn the cam bolt to adjust the rear toe as necessary.
Torque: 129 lb.ft (175 Nm)
NOTE: If equipped with Lane Departure Warning (LDW) System, camera alignment is required for the lane keeping alert and lane keeping aid to function correctly.

Connect the scan tool and perform the IPMA camera alignment procedure. Follow the scan tool directions.

Special Tool(s) / General Equipment Wheel Alignment System Adjustment NOTICE: Suspension fasteners are critical parts that affect the performance of vital components and systems...
Special Tool(s) / General Equipment Surface Gauge Check Ride Height Measurement - Front NOTE: Make sure that the vehicle is positioned on a flat, level surface and the tires are inflated to the correct pressure...
Other information:
System Operation BLIS ® and CTA System Diagram Item Description 1 LH exterior mirror 2 SODR 3 GWM 4 SCCM 5 IPC 6 PCM 7 SODL 8 DDM 9 PDM 10 BCM 11 PAM 12 LH BLIS ®/ CTA LED 13 RH exterior mirror 14 RH BLIS ®/ CTA ..
Special Tool(s) / General Equipment Flat Headed Screw Driver Removal NOTE: Left hand (LH) shown, right hand (RH) similar. Disconnect the tether clips from the A-pillar trim panel. Release the tether clips from the A-pillar trim panel. Rotate the tether clip lines to align the ends with openings. Slide the tether clip ends out of the A-pil..
Categories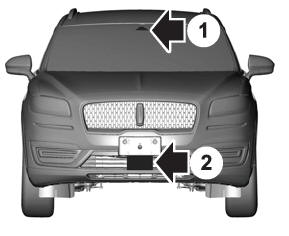 Camera. Radar sensor (if equipped).
If a message regarding a blocked sensor or camera appears in the information display, something is obstructing the radar signals or camera images. The radar sensor is behind the fascia cover in the center of the lower grille. With a blocked sensor or camera, the system may not function, or performance may reduce. See Pre-Collision Assist – Information Messages.
Copyright © 2023 www.linautilus.com