Lincoln Nautilus: Keyless Entry Keypad / What Is the Keyless Entry Keypad. Keyless Entry Keypad Limitations. Locating the Keyless Entry Keypad
What Is the Keyless Entry Keypad
The keyless entry keypad allows you to lock and unlock your vehicle using the keypad on the window trim.
Keyless Entry Keypad Limitations
The system may not function if:
The vehicle battery has no charge.
Locating the Keyless Entry Keypad
SecuriCode Invisible Keypad
The keypad is near the driver window illuminates when you touch it.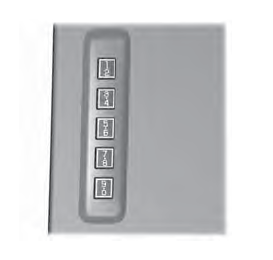 Unlocking the Doors Enter the factory-set five-digit code or your personal code. You must press each number within five seconds of each other. Press 3-4 within five seconds to unlock all doors...
Other information:
Inspecting the Wheel Valve Stems Check the valve stems for holes, cracks, or cuts that could permit air leakage. Tire Rotation WARNING: If the tire label shows different tire pressures for the front and rear tires and the vehicle has a tire pressure monitoring system, then you need to update the settings for the system sensors...
Garage Door Opener Limitations Canadian radio-frequency laws require transmitter signals to time-out (or quit) after several seconds – which may not be long enough for HomeLink to pick up the signal. U.S. gate operators time-out in the same manner...