Lincoln Nautilus: Automatic Transmission / Automatic Return to Park (P)
What Is Automatic Return to Park (P)
Your vehicle shifts into park (P) if you attempt to exit your vehicle without the transmission in park (P).
How Does Automatic Return to Park (P) Work
Your vehicle shifts into park (P) when your vehicle is stationary and any of the following occur:
You switch the vehicle off.
You open the driver door with your seatbelt unlatched.
You unlatch the driver seatbelt when the driver door is open.
Note: Do not use automatic return to park (P) when your vehicle is moving, except in an emergency. See Stopping the Engine When Your Vehicle is Moving.
Automatic Return to Park (P) Limitations
Automatic return to park may not work if the door ajar switch is malfunctioning.
See an authorized dealer if any of the following occur:
Door ajar indicator does not illuminate with the driver door open.
Door ajar indicator illuminates with the driver door closed.
Transmission not in park message appears with the driver door closed, after you shift out of park (P).
What Is Temporary Neutral Mode This mode keeps your vehicle in neutral (N) when you switch your vehicle off. Use this mode if you exit your vehicle or switch your vehicle off at an automatic car wash...
What Is Manual Park Release Manual park release allows you to move your transmission out of the park (P) position in the event of an electrical malfunction or emergency...
Other information:
System Operation System Diagram Item Description 1 ABS 2 HS-CAN 3 Grille Shutter Actuator 4 PCM 5 LIN Network Message Chart PCM Network Input Messages Broadcast Message Originating Module Message Purpose Vehicle speed ABS module Vehicle speed is used to determi..
Removal NOTE: Removal steps in this procedure may contain installation details. Remove the information and entertainment display unit. Remove the ACM . Refer to: Audio Front Control Module (ACM) (415-00 Information and Entertainment System - General Information - Vehicles With: SYNC 4, Removal and Installation). Remove the GSM . Refer to: Gear Shift ..
Categories
Clearing the Garage Door Opener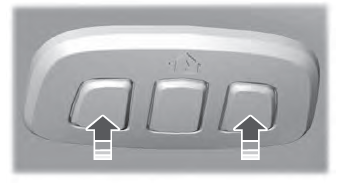 Press and hold the outer two function buttons simultaneously for approximately 10 seconds until the indicator light above the buttons flashes rapidly. When the indicator light flashes, release the buttons.