Lincoln Nautilus: Automatic Transmission / Temporary Neutral Mode
What Is Temporary Neutral Mode
This mode keeps your vehicle in neutral (N) when you switch your vehicle off. Use this mode if you exit your vehicle or switch your vehicle off at an automatic car wash.
Note: Do not tow your vehicle in this mode.
Note: Automatic return to park (P) is delayed when your vehicle is in this mode. See What Is Automatic Return to Park (P).
Temporary Neutral Mode Limitations
Your vehicle could shift to park (P) after 30 minutes, or when the vehicle battery charge level is low. Prolonged use of this mode can cause the vehicle battery to run out of charge.
Do not tow your vehicle in this mode. Failure to follow these instructions could result in vehicle damage not covered by the vehicle warranty.
Entering Temporary Neutral Mode
Power your vehicle on.
Bring your vehicle to a complete stop.
Press and hold the brake pedal.
Shift into neutral (N).

Note: An instructional message appears.

Press the neutral (N) button.

Note: A confirmation message appears when your vehicle enters the mode.

Release the brake pedal.

Note: Your vehicle is free to roll.

Switch your vehicle off.

Note: Do not tow your vehicle in this mode.

Note: The neutral (N) indicator on the transmission selector may flash in this mode.
Exiting Temporary Neutral Mode
Press the brake pedal.
Shift into park (P), or power your vehicle on and shift into drive (D) or reverse (R).
Shifting Using the Paddle Shifters Use this procedure to shift your transmission manually. Manually Shifting in Drive (D) Use this feature when you need immediate shift response, for example overtaking another vehicle...
What Is Automatic Return to Park (P) Your vehicle shifts into park (P) if you attempt to exit your vehicle without the transmission in park (P). How Does Automatic Return to Park (P) Work Your vehicle shifts into park (P) when your vehicle is stationary and any of the following occur: You switch the vehicle off...
Other information:
The RDU is available with 2.58 drive ratio. Rear Drive Axle and Differential The rear drive axle and differential unit (RDU ) is a cast aluminum differential assembly located in the rear of the vehicle consisting of the following components: Crown wheel and pinion An electrically activated and mechanically engaged clutch pack acting on the rear drive axles, that applies or removes..
Materials Name Specification Motorcraft® DOT 4 LV High Performance Motor Vehicle Brake FluidPM-20 WSS-M6C65-A2 Removal NOTICE: Do not spill brake fluid on painted or plastic surfaces or damage to the surface may occur. If brake fluid is spilled onto a painted or plastic surface, immediately wash the surface with water. NOTE: Removal steps in this procedure m..
Categories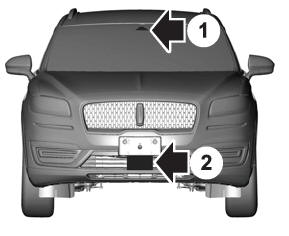 Camera. Radar sensor (if equipped).
If a message regarding a blocked sensor or camera appears in the information display, something is obstructing the radar signals or camera images. The radar sensor is behind the fascia cover in the center of the lower grille. With a blocked sensor or camera, the system may not function, or performance may reduce. See Pre-Collision Assist – Information Messages.