Lincoln Nautilus: Rear Drive Axle/Differential / Rear Drive Axle and Differential - Component Location. Description and Operation
RDU - Component Location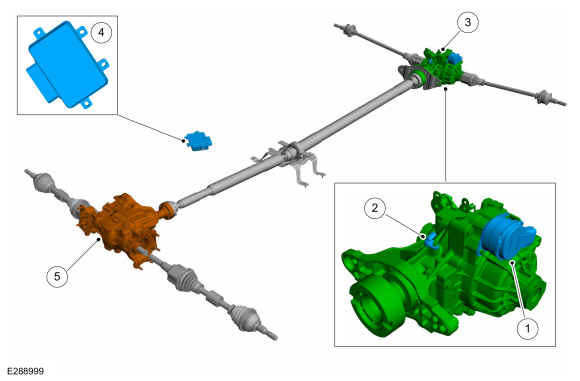 | Item | Description |
| --- | --- |
| 1 | RDU actuator motor |
| 2 | Speed sensor |
| 3 | RDU |
| 4 | AWD module |
| 5 | PTU (Power transfer unit) |
Materials Name Specification XY-75W-QL - Motorcraft® Disconnect Rear Drive Unit Fluid - Premium Long-Life Grease XG-1-E1 ESA-M1C75-B Capacities Item Liters Material: Motorcraft® Disconnect Rear Drive Unit Fluid / XY-75W-QL 0...
The RDU is available with 2.58 drive ratio. Rear Drive Axle and Differential The rear drive axle and differential unit (RDU ) is a cast aluminum differential assembly located in the rear of the vehicle consisting of the following components: Crown wheel and pinion An electrically activated and mechanically engaged clutch pack acting on the rear drive axles, that applies or removes..
Other information:
Properly Adjusting the Driver and Front Passenger Seats WARNING: National Highway Traffic Safety Administration (NHTSA) recommends a minimum distance of at least 10 in (25 cm) between an occupant's chest and the driver airbag module. To properly position yourself away from the airbag: Move your seat to the rear as far as you can while still reaching the pedals comfortably. Recline the ..
Window Bounce-Back What Is Window Bounce-Back The window stops and reverses if it detects an obstruction when closing. Overriding Window Bounce-Back WARNING: If you override bounce-back, the window does not reverse if it detects an obstacle. Take care when closing the windows to avoid personal injury or damage to your vehicle. Close the window until it reaches the point of resistance and ..
Categories
Parking Aid Indicators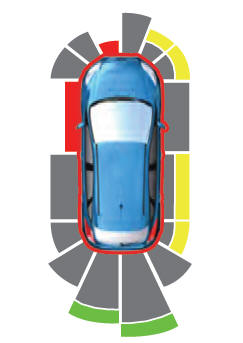 The system provides object distance indication through the information and entertainment display.
As the distance to the object decreases, the indicator waves and the lines move toward the vehicle icon. If there is no object detected, the distance indicator lines are grey.
Copyright © 2022 www.linautilus.com