Lincoln Nautilus: Rear Drive Axle/Differential / Rear Drive Unit (RDU) Speed Sensor. Removal and Installation
Materials
Name
Specification
Motorcraft® Disconnect Rear Drive Unit Fluid
XY-75W-QL
-

Removal
NOTE: Removal steps in this procedure may contain installation details.
With the vehicle in NEUTRAL, position it on a hoist.
Refer to: Jacking and Lifting - Overview (100-02 Jacking and Lifting, Description and Operation).

Disconnect RDU speed sensor electrical connector.

Remove the bolt and the RDU speed sensor.
Torque: 53 lb.in (6 Nm)
NOTE: The O-ring seals are to be reused unless damaged.

Clean and inspect the RDU speed sensor O-ring for damage and install new RDU speed sensor as necessary.

Installation
NOTE: Make sure that a new component is installed if the O-ring is damaged.

NOTE: Make sure the O-ring is installed correctly within the O-ring groove.

If removed, install the new RDU speed sensor O-ring and lubricate them with clean RDU fluid.
Material: Motorcraft® Disconnect Rear Drive Unit Fluid / XY-75W-QL
To install, reverse the removal procedure.

Categories
Parking Aid Indicators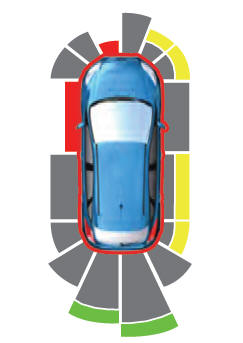 The system provides object distance indication through the information and entertainment display.
As the distance to the object decreases, the indicator waves and the lines move toward the vehicle icon. If there is no object detected, the distance indicator lines are grey.
Copyright © 2023 www.linautilus.com