Lincoln Nautilus: Audio System / Setting the Clock and Date
Press Settings on the touchscreen.
Press Clock Settings.
Set the time.
Note: The AM and PM options are not available if 24-hour mode is on.
Switching Automatic Time Updates On and Off
Press Settings on the touchscreen.
Press Clock Settings.
Switch Automatic time zone update on or off.
Balance and Fade (If Equipped) Press Settings on the touchscreen. Press Sound Settings. Press Balance / Fade. Press the arrows to adjust the settings...
AM/FM Radio Limitations The further you travel from an AM or FM station, the weaker the signal and the weaker the reception. Hills, mountains, tall buildings, bridges, tunnels, freeway overpasses, parking garages, dense tree foliage and thunderstorms can interfere with the reception...
Other information:
Adaptive Cruise Control – Information Messages - Vehicles With: Lane Centering Note: Depending on your vehicle options and instrument cluster type, not all messages display or are available. Note: The system could abbreviate or shorten certain messages depending upon which cluster type you have...
General Specifications Auto-Start-Stop System Item Specification Voltage 12 Volts Cold Cranking Amps (CCA) measured at -18 C (-0.4 F) 800 Cold Cranking Amps (CCA) Battery amps rating 80 Ah Battery size H7 Battery type Absorbed Glass Mat (AGM) ..
Categories
Clearing the Garage Door Opener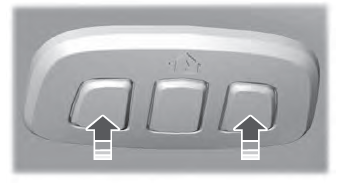 Press and hold the outer two function buttons simultaneously for approximately 10 seconds until the indicator light above the buttons flashes rapidly. When the indicator light flashes, release the buttons.