Lincoln Nautilus: Electric Parking Brake / Automatically Releasing the Electric Parking Brake. Electric Parking Brake Audible Warning. Releasing the Electric Parking Brake if the Vehicle Battery Has Run Out of Charge
Automatically Releasing the Electric Parking Brake
Close the driver door.
Shift into gear.
Press the accelerator pedal and pull away in a normal manner.
Electric Parking Brake Audible Warning
Sounds when the parking brake is on and your vehicle is moving. If the warning tone continues after you have released the parking brake, this indicates a malfunction. Have your vehicle checked as soon as possible.
Releasing the Electric Parking Brake if the Vehicle Battery Has Run Out of Charge
WARNING: The electric parking brake does not operate if the vehicle battery has run out of charge.
Connect a booster battery to the vehicle battery to release the electric parking brake if the vehicle battery has run out of charge. See Jump Starting the Vehicle.
Categories
Clearing the Garage Door Opener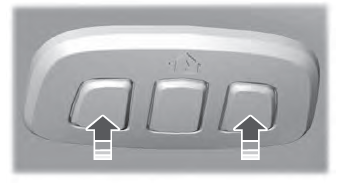 Press and hold the outer two function buttons simultaneously for approximately 10 seconds until the indicator light above the buttons flashes rapidly. When the indicator light flashes, release the buttons.