Lincoln Nautilus: Front Seats / Sitting in the Correct Position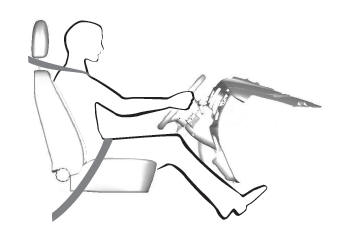 When you use them properly, the seat, head restraint, seatbelt and airbags will provide optimum protection in the event of a crash.
We recommend that you follow these guidelines:
Sit in an upright position with the base of your spine as far back as possible.
Do not recline the seat backrest so that your torso is more than 30 degrees from the upright position.
Adjust the head restraint so that the top of it is level with the top of your head and as far forward as possible. Make sure that you remain comfortable.
Keep sufficient distance between yourself and the steering wheel. We recommend a minimum of 10 in (25 cm) between your breastbone and the airbag cover.
Hold the steering wheel with your arms slightly bent.
Bend your legs slightly so that you can press the pedals fully.
Position the shoulder strap of the seatbelt over the center of your shoulder and position the lap strap tightly across your hips.
Make sure that your driving position is comfortable and that you can maintain full control of your vehicle.
Front Seat Precautions WARNING: Sitting improperly, out of position or with the seatback reclined too far can take weight off the seat cushion and affect the decision of the passenger sensing system, resulting in serious injury or death in the event of a crash...
Head Restraint Components The head restraints consist of: An energy absorbing head restraint. Two steel stems. Guide sleeve adjust and unlock button...
Other information:
Shifting Using the Paddle Shifters Use this procedure to shift your transmission manually. Manually Shifting in Drive (D) Use this feature when you need immediate shift response, for example overtaking another vehicle. Pull the (+) paddle to switch the feature on...
Lubricants, Fluids, Sealers and Adhesives Item Specifications Motorcraft® DOT 4 LV High Performance Motor Vehicle Brake Fluid / PM-20 WSS-M6C65-A2 Torque Specifications Item Nm lb-ft lb-in Front caliper bleeder screw 17 - 150 Rear caliper b..
Categories
Parking Aid Indicators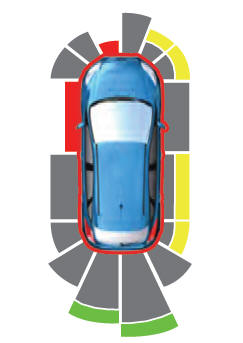 The system provides object distance indication through the information and entertainment display.
As the distance to the object decreases, the indicator waves and the lines move toward the vehicle icon. If there is no object detected, the distance indicator lines are grey.