Lincoln Nautilus: Rear Suspension / Upper Arm. Removal and Installation
Special Tool(s) / General Equipment
Removal
NOTICE: Suspension fasteners are critical parts that affect the performance of vital components and systems. Failure of these fasteners may result in major service expense. Use the same or equivalent parts if replacement is necessary. Do not use a replacement part of lesser quality or substitute design. Tighten fasteners as specified.
NOTE: Removal steps in this procedure may contain installation details.
Remove the wheel and tire.
Refer to: Wheel and Tire (204-04A Wheels and Tires, Removal and Installation).

Raise suspension to curb height.
Use the General Equipment: Vehicle/Axle Stands
NOTICE: Tighten the suspension bushing fasteners with the suspension loaded or with the weight of the vehicle resting on the wheels and tires, otherwise incorrect clamp load and bushing damage may occur.

Remove and discard the upper arm-to-wheel knuckle bolt and nut.
Torque: 76 lb.ft (103 Nm)

Remove and discard the upper arm-to-frame bolt and nut and remove the upper arm.
Torque: 85 lb.ft (115 Nm)
Installation
To install, reverse the removal procedure.

Check and if necessary adjust rear camber.
Refer to: Rear Camber Adjustment (204-00 Suspension System - General Information, General Procedures).

Categories
Parking Aid Indicators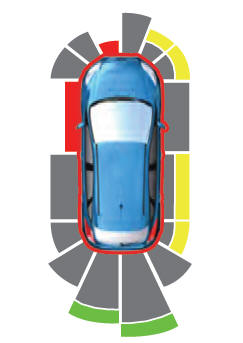 The system provides object distance indication through the information and entertainment display.
As the distance to the object decreases, the indicator waves and the lines move toward the vehicle icon. If there is no object detected, the distance indicator lines are grey.
Copyright © 2023 www.linautilus.com