Lincoln Nautilus: Rear Occupant Alert System / What is the Rear Occupant Alert System. How Does the Rear Occupant Alert System Work. Rear Occupant Alert System Precautions
What is the Rear Occupant Alert System
The rear occupant alert system monitors vehicle conditions and notifies you to check for rear seat occupants when you switch the ignition off.
How Does the Rear Occupant Alert System Work
The system monitors when rear doors have been opened and closed to indicate the potential presence of an occupant in the rear seat.
A message displays in the information and entertainment display screen and an audible warning sounds when you switch the ignition off after any of the following conditions have been met:
A rear door is opened or closed while the ignition is on.
You switch the ignition on within 15 minutes of a rear door opening and closing.
You switch the ignition on within 15 minutes of the alert having displayed or sounded.
Rear Occupant Alert System Precautions
WARNING: On hot days, the temperature inside the vehicle can rise very quickly. Exposure of people or animals to these high temperatures for even a short time can cause death or serious heat related injuries, including brain damage. Small children are particularly at risk.
WARNING: Do not leave children or pets unattended in your vehicle. Failure to follow this instruction could result in personal injury or death.
Rear Occupant Alert System Limitations The system does not detect the presence of objects or passengers in the rear seat. It monitors when rear doors are opened and closed...
Other information:
Cleaning the Exterior Cleaning Headlamps and Rear Lamps We recommend that you only use cold or lukewarm water containing car shampoo to clean the headlamps and the rear lamps. Do not scrape the lamps. Do not wipe lamps when they are dry. Cleaning Windows and Wiper Blades To clean the windshield and wiper blades: Clean the windshield with a non-abrasive glass cleaner...
Park (P) WARNING: Move the transmission selector lever to park (P) only when your vehicle is stationary. This position locks the driveline. Come to a complete stop before putting your vehicle into and out of park (P). The electric parking brake could apply when you shift to park (P) without the brake pedal fully pressed...
Categories
Parking Aid Indicators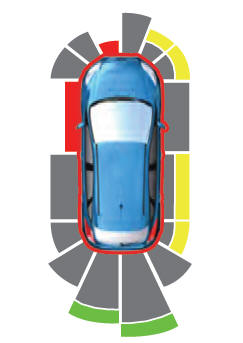 The system provides object distance indication through the information and entertainment display.
As the distance to the object decreases, the indicator waves and the lines move toward the vehicle icon. If there is no object detected, the distance indicator lines are grey.