Lincoln Nautilus: Lane Keeping System / Alert and Aid Mode
What Is Alert and Aid Mode
Alert and aid mode uses multiple features to keep you in your lane. The system first provides a small steering input to bring your vehicle back towards the center of the lane. If your vehicle moves too far out of the center of the lane the system alerts you with vibration in the steering wheel.
How Does Alert and Aid Mode Work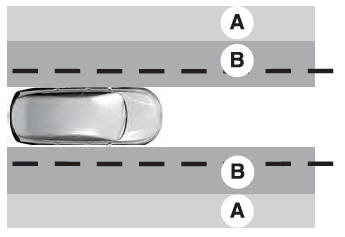 Alert.
Aid.
The lane keeping system detects a lane departure and provides aid when the vehicles enters B and applies the additional alert warning if A is entered.
Categories
Clearing the Garage Door Opener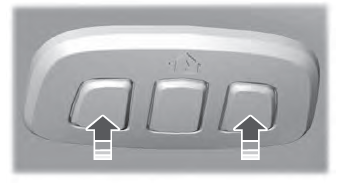 Press and hold the outer two function buttons simultaneously for approximately 10 seconds until the indicator light above the buttons flashes rapidly. When the indicator light flashes, release the buttons.
Copyright © 2022 www.linautilus.com