Lincoln Nautilus: Fuel and Refueling / Fuel Tank Capacity. Fuel and Refueling – Troubleshooting
Fuel Tank Capacity
Advertised Capacity
The advertised capacity is the maximum amount of fuel that you can add to the fuel tank after running out of fuel. Included in the advertised capacity is an empty reserve. The empty reserve is an unspecified amount of fuel that remains in the fuel tank when the fuel gauge indicates empty.
Note: The amount of fuel in the empty reserve varies and should not be relied upon to increase driving range.
Fuel and Refueling – Troubleshooting
Fuel and Refueling – Warning Lamps
If it illuminates when you are driving, refuel as soon as possible.
Fuel and Refueling – Information Messages
Refueling System Warning
If the fuel tank filler valve does not fully close, a message could appear in the information display.
If the message appears, do the following:
Stop your vehicle as soon as it is safe to do so and switch the engine off.
Shift into park (P) or neutral (N).
Apply the parking brake.
Fully open the fuel filler door.
Check the fuel tank filler valve for any debris that may be restricting its movement.
Remove any debris from the fuel tank filler valve.
Fully insert a fuel pump nozzle or the fuel filler funnel provided with your vehicle into the fuel filler pipe. See Locating the Fuel Filler Funnel. This action should dislodge any debris that may be preventing the fuel tank filler valve from fully closing.
Remove the fuel pump nozzle or fuel filler funnel from the fuel filler pipe.
Fully close the fuel filler door.
Note: The message may not immediately reset. If the message continues to appear and a warning lamp illuminates, have your vehicle checked as soon as possible.
Refueling System Overview Fuel filler door. Fuel tank filler valve. Fuel tank filler pipe. Refueling Your Vehicle WARNING: When refueling always shut the engine off and never allow sparks or open flames near the fuel tank filler valve...
What Is the Catalytic Converter The catalytic converter is part of your vehicle's emissions system and filters harmful pollutants from the exhaust gas...
Other information:
System Operation System Diagram Item Description 1 IPC 2 BCM 3 IPC message center display 4 TPMS warning indicator 5 LH front TPMS sensor 6 RH front TPMS sensor 7 LH rear TPMS sensor 8 RH rear TPMS sensor 9 RTM 10 GWM Network Message Chart BCM TPMS Network Inpu..
Removal NOTE: When the battery is disconnected and connected, some abnormal drive symptoms may occur while the vehicle relearns its adaptive strategy. The vehicle may need to be driven to allow the PCM to relearn the adaptive strategy values. NOTE: The cowl panel is removed for clarity only. NOTE: Removal steps in this procedure may contain installation details. NOTICE: ..
Categories
Parking Aid Indicators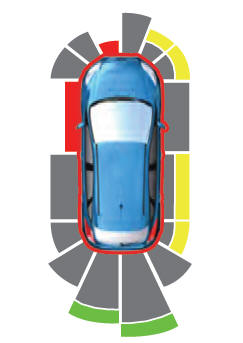 The system provides object distance indication through the information and entertainment display.
As the distance to the object decreases, the indicator waves and the lines move toward the vehicle icon. If there is no object detected, the distance indicator lines are grey.