Lincoln Nautilus: Parking Brake and Actuation / Parking Brake - Overview. Description and Operation
Overview
The parking brake system uses 2 switch activated, ECU controlled motors to apply and release the rear brake calipers. The ABS module controls and monitors the parking brake system and sets Diagnostic Trouble Codes (DTCs) when a fault is present in the system. The IPC illuminates the parking brake warning indicator and displays a message in the message center when a fault is present, when the parking brakes are applied and when they are released.
System Operation System Diagram Item Description 1 ABS module 2 LH parking brake actuator motor 3 GWM 4 RCM 5 PCM 6 BCM 7 IPC 8 Parking brake control switch 9 RH parking brake actuator motor Network Message Chart ABS Module Electronic Parking Brake Network Input Me..
Other information:
Wipers and Washers – Warning Lamps Illuminates when the windshield washer fluid is low. Wipers and Washers – Frequently Asked Questions Why are there streaks and smears on the windshield? The wiper blades could be dirty, worn or damaged. Check the wiper blades. See Checking the Wiper Blades. If the wiper blades are dirty, clean them with washer fluid or water applied with a soft sponge ..
Keyless Entry Limitations Make sure your remote control is within 3 ft (1 m) from the front door handles and the tailgate. The system could not function if: The remote control remains stationary for about a minute. The vehicle battery has no charge. The remote control battery has no charge. There is interference causing issues with the remote control frequencies. The remote control i..
Categories
Clearing the Garage Door Opener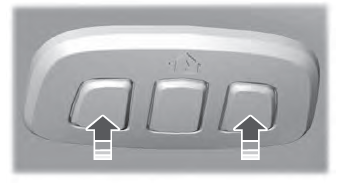 Press and hold the outer two function buttons simultaneously for approximately 10 seconds until the indicator light above the buttons flashes rapidly. When the indicator light flashes, release the buttons.
Copyright © 2023 www.linautilus.com