Lincoln Nautilus: Parking Brake and Actuation / Parking Brake - Overview. Description and Operation
Overview
The parking brake system uses 2 switch activated, ECU controlled motors to apply and release the rear brake calipers. The ABS module controls and monitors the parking brake system and sets Diagnostic Trouble Codes (DTCs) when a fault is present in the system. The IPC illuminates the parking brake warning indicator and displays a message in the message center when a fault is present, when the parking brakes are applied and when they are released.
System Operation System Diagram Item Description 1 ABS module 2 LH parking brake actuator motor 3 GWM 4 RCM 5 PCM 6 BCM 7 IPC 8 Parking brake control switch 9 RH parking brake actuator motor Network Message Chart ABS Module Electronic Parking Brake Network Input Me..
Other information:
How Does 911 Assist Work If a crash deploys an airbag, excluding knee airbags and rear inflatable seatbelts, or activates the fuel pump shut-off, your vehicle may be able to contact emergency services by dialing 911 through a paired and connected Bluetooth-enabled phone. Not all crashes will deploy an airbag or activate the fuel pump shut-off. If a connected cell phone sustains damage or l..
Pre-Collision Assist – Information Messages Pre-Collision Assist – Frequently Asked Questions Camera Troubleshooting The windshield in front of the camera is dirty or obstructed. Clean the outside of the windshield in front of the camera. The windshield in front of the camera is clean, but the message remains in the instrument cluster display. Wait a short time. It could take several minut..
Categories
Clearing the Garage Door Opener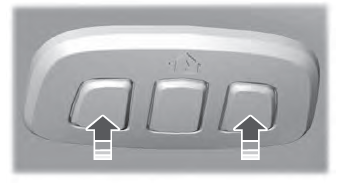 Press and hold the outer two function buttons simultaneously for approximately 10 seconds until the indicator light above the buttons flashes rapidly. When the indicator light flashes, release the buttons.
Copyright © 2022 www.linautilus.com