Lincoln Nautilus: Exterior Trim and Ornamentation / Front Door Upper Moulding. Removal and Installation
Removal
NOTE: Removal steps in this procedure may contain installation details.
Vehicles With: Keyless Entry
Remove the front door latch on the affected side, to gain clearance for removal of the electrical connector.
Refer to: Front Door Latch (501-14 Handles, Locks, Latches and Entry Systems, Removal and Installation).

All vehicles
NOTE: Exterior mirror not shown for clarity.

Remove the screw from the front and rear of the door moulding and remove the moulding.
Torque: 13 lb.in (1.5 Nm)
Lower the RH side door glass.

Pull B-pillar glass run leg out of the U-channel of the upper moulding.

Vehicles With: Keyless Entry
Disconnect the electrical connector and route the wiring and connector towards top of door for removal.

All vehicles
NOTE: LH side shown, RH side similar.
Remove the screws and pushpin.
Torque: 17 lb.in (1.9 Nm)
Detach the rear edge of the moulding from the door frame and pull the moulding upward to remove.

Installation
To install, reverse the removal procedure.

Categories
Clearing the Garage Door Opener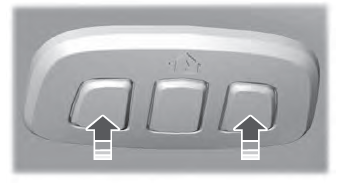 Press and hold the outer two function buttons simultaneously for approximately 10 seconds until the indicator light above the buttons flashes rapidly. When the indicator light flashes, release the buttons.
Copyright © 2023 www.linautilus.com