Lincoln Nautilus: Driveline / Rear Drive Halfshafts
Materials Name Specification Motorcraft® MERCON® ULV Automatic Transmission FluidXT-12-QULV WSS-M2C949-A, MERCON® ULV Removal Remove the front halfshaft RH ...
LUBRICANT Material: Motorcraft® SAE 80W-90 Premium Rear Axle Lubricant / XY-80W90-QL (WSP-M2C197-A) ..
Other information:
Electric Power Steering Electric Power Steering Precautions WARNING: The electric power steering system has diagnostic checks that continuously monitor the system. If a fault is detected, a message displays in the information display. Stop your vehicle as soon as it is safe to do so. Switch the vehicle off. After at least 10 seconds, switch the vehicle on and watch the information display ..
System Diagram Item Description 1 DDM 2 SCCM 3 Memory Set Switch 4 DSM 5 BCM 6 MS-CAN 7 HS2-CAN 8 Steering Column Control Switch 9 Steering Column Tilt Motor 10 Hall Effect Sensor 11 GWM 12 Steering Column Telescopic Motor 13 Hall Effect Sensor 14 HS1-CAN System Operation Network Message..
Categories
Parking Aid Indicators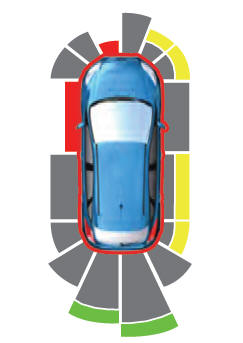 The system provides object distance indication through the information and entertainment display.
As the distance to the object decreases, the indicator waves and the lines move toward the vehicle icon. If there is no object detected, the distance indicator lines are grey.
Copyright © 2023 www.linautilus.com